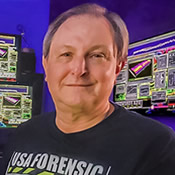 Bryan Neumeister
, CEO of USA Forensics, is a court certified
Audio and Video Forensic Expert
. Mr. Neumeister has over 34 years of professional experience
Clarifying Videos, Still Pictures (film and digital), and Audio Recordings
so that jurors can better see and hear evidence. With studios and forensic equipment more advanced than most Federal Agencies, he is able video to large format still pictures for use as Exemplars.
Mr. Neumeister presents high resolution video in court to explain
Procedure or Evidence of Tampering
to juries. Using 3D Sonograph and Spectrograph printouts, he can also spot and visually explain the "altering of tapes." His Video Recreations have been honored at the Canne Film Festival and have received 39 Emmy Awards from the National Association of Television Arts and Sciences for Technical Excellence.
Mr. Neumeister has worked on over
200 Forensic Cases
since 2010. His non-military court cases include: RICO, Murder, Murder for Hire, Fraud, Robbery, Armed Robbery, Assault with a Deadly Weapon, Arson, Kidnapping, Bank Robbery, DUI, DWI, Civil Cases...etc. He is certified in Military, Federal, State, Civil, and Aviation court.
Large Cases include
:
US Government vs. Charles Keating - Retained as Video Expert
State of Arizona vs. Jodi Arias - Retained as Audio and Photography Expert
US Grand Jury: The Hope Steffy Case – Video Expert
US Government vs. Charles Keating III - Retained as Video Expert
US Federal Government vs. State of AZ. - King Case as Video Expert
Currently: Encrypted Department of Justice Case
Areas of Expertise
:
Audio & Video Analysis
Voice Enhancement, Verification, Authentication
Forensic Voice Comparison
Forensic Linguistics
Video Enhancement

Aerial Surveillance
Still Photography Enhancement
Video Up-Resolution to HD Court Exemplars
Facial Comparisons / Recognition
Emmy Award Winning Crime Scene Recreations
Certifications and Affiliations
:ACFE, ABRE, APA, NATAS, BMI, ASCAP, AES, ACFEi, PSA, NAB
View Bryan Neumeister's Consulting Profile
.
We've all seen the TV crime shows where the forensic technician opens the grainy surveillance, then zooms in on a tiny face, license plate or scrap of paper, hits the enhance button and, magically, the image becomes sharp and clear (accompanied by appropriate background music).
---