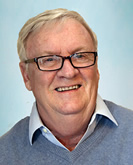 Dr. James Rice
has over 35 years of technical and managerial experience in both industry and academia. He has a strong technical background in broad areas of mechanical engineering ranging from fluid mechanics and heat transfer to basic design. Dr. Rice's primary expertise is in computational methods and simulation in mechanical engineering. His mechanical engineering practice has focused in particular on the development and application of these methods to a diverse range of applications in industry, and has also used these methods in his litigation support activities.
Dr. Rice has extensive experience as an expert witness in patent litigation involving issues in Mechanical Engineering. Over the last ten years, he has provided litigation support in more than 30 cases including approximately 25 patent cases. This experience has included the preparation of numerous expert reports, depositions, and trial testimony for both plaintiff and defense attorneys. His litigation support activities have also included testing and analysis as required to support his opinions.
Dr. Rice is the author of over 30 technical publications and has consulted for over fifty companies. He has conducted over 200 seminars and short courses in the U.S., Europe, and the Orient, and has been an invited speaker at international engineering conferences.
Expertise
:
Computational Methods
Heat Transfer / Thermodynamics
Turbomachinery
Combustion
Fluid Mechanics

Finite Element Analysis
Mechanical Design
Intellectual Property
Prior Art Review
Infringement & Invalidity
Industries and Applications:
Automotive:

Vehicle Aerodynamics
Passenger Compartment Flow
Underhood Flow & Heat Transfer
Intake & Exhaust Manifolds
Intake & Exhaust Valves
Engine Cooling Jackets

Power Steering Components
Cooling Fans
Fuel Delivery Systems
Ejectors
Control Valves
Torque Converters
Power Generation:
Electronics:

Valves
Fossil & Nuclear Heat Exchangers
Thermal Stratification
Separation Systems
Combustion Systems

Enclosures
Heat Sinks
Natural / Forced Convection
Hard Drive Flow
Motors
HVAC:
Turbomachinery:

Duct Systems and Components
Valves, Fittings
Flow & Temperature Distribution
Particle Dispersion

Pumps
Compressors
Blowers
Fans
Aerospace:

Aerodynamics
Wind tunnels
Rotor Loads
Quite often when I receive an inquiry from an attorney about a new case, the case deals with a product or device that involves a very specialized and narrow area of design and engineering.
---