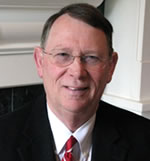 James D. Wamble, PE, RLS
has over 30 years of experience as a
Professional Civil Engineer
and
Registered Land Surveyor
. During the course of his career, Mr. Wamble has worked on land planning, land surveying, or civil engineering projects in all counties of the middle and west Tennessee regions, and several counties in east Tennessee.
Mr. Wamble has offered litigation support services as an expert witness in cases since 1976. In the last four years, he has testified 12 times in 8 lawsuits. These litigation cases include land planning, land surveying, and civil engineering issues. Mr. Wamble has experience with depositions, trials, hearings, and arbitrations.
Expert Witness Services Include
:
Research
Site Inspections
Engineering Analysis
Land Surveys

Survey and Civil Engineering Drawings
Investigation
Report Writing
Exhibit Preparation
Areas of Expertise
:
Civil Engineering: Design of grading, drainage, utilities, roads, lakes, dams, detention basins, parking lots, shopping centers, subdivisions, apartments, condominiums, planned unit developments, specific plans, industrial parks, mobile home parks, mini warehouses, hotels and office building site plans; flood, drainage, and utility studies; low impact design; financial developability and constructability analysis of proposed developments; preparation of cost estimates; assisting clients in setting project budgets; designing projects to contain cost within determined project budget; construction project management, inspection, administration, and processing of contractors' pay requests
Land Surveying: Topographic, Route, Land, Boundary, Utilities, Aerial ground control, Engineering design, and Construction Surveys
Land Planning: Land use/development feasibility analysis, planning and concept design of residential, commercial, industrial and municipal projects; zone change applications; planned unit development and specific plan applications; site selection consultation; and graphic presentations
View James Wamble's Consulting Profile
.