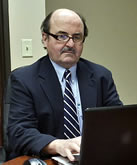 J. Clark Race, MD
, is Board Certified in
Orthopedic Surgery
by the American Board of Orthopaedic Surgery. Dr. Race has extensive experience and knowledge in the diagnosis and treatment of all orthopedic and musculoskeletal conditions. He has practiced orthopedics in Austin, TX for over 30 years.
Dr. Race has been a Preceptor at the University of Texas Southwestern Internal Medicine Residency Program since 2001. He has also served as a Clinical Assistant Professor in the Department of Orthopaedics at the University of Texas Medical Branch. He is currently an Orthopedic Consultant for the Texas Department of Rehabilitative Services and a Certified Designated Doctor for the Texas Department of Insurance, Workers Compensation Division.
Dr. Race received his medical degree from the University of Texas at Galveston and completed his residency in orthopedic surgery at the University of Texas Health Science Center in Dallas, Texas. He was named one of America's Top Orthopedists in 2010 by Consumer's Research Council of America, as well as one of the Leading Physicians of the World by the International Association of Orthopaedic Surgeons.
Expertise Includes
:
Joint Replacement Surgery
Arthroscopy
Sports Injuries
Fractures

Shoulder Conditions
Knee Conditions
Foot and Ankle Conditions
Carpal Tunnel Syndrome
Dr. Race is particularly well-versed in foot and ankle problems, including:
Foot Fractures
Ankle Sprain and Ankle Instability

Plantar Fasciitis
Flat Foot
View Dr. Race's Expert Witness Profile
.