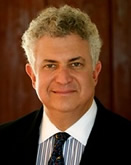 Howard Brod Brownstein, CTP
, is a nationally-known
Turnaround and Crisis Management
professional with over 40 years of experience. He serves as a President of The Brownstein Corporation, where, in addition to leading turnaround assignments, advising senior management, and fulfilling a senior management role, he has overall responsibility for the firm's transactional activities and for the marketing of its services to clients.
Mr. Brownstein is a Certified Turnaround Professional (CTP). He has served on the International Board of Directors of the Turnaround Management Association (TMA) and its Executive Committee, and chaired its Audit Committee. Mr. Brownstein received TMA's "Outstanding Individual Contribution" award in 2007. He also serves on the Board of the American Bankruptcy Institute (ABI), co-chairs its Complex Financial Restructuring Program, co-chaired its Mid Atlantic region for several years, and is a Contributing Editor of the
ABI Journal
. He serves on the Governing Board of the Commercial Finance Association (CFA) Education Foundation.
Mr. Brownstein is a frequent speaker at professional and educational programs, including at Harvard Business School, Villanova Law School, Northeastern University, ABI, the American Bar Association, and TMA. He has authored over thirty articles, and has served on the Editorial Board of The Journal of Corporate Renewal, and serves as a Contributing Editor of
abfJournal
.
Background
- Previously, Mr. Brownstein was Managing Director of Enprotech Corp., a wholly owned subsidiary of ITOCHU (formerly C. Itoh), one of the world's largest companies. Enprotech acted as ITOCHU's acquisition and holding company for engineering service and product businesses with over $1 billion in assets. Mr. Brownstein has served in several senior executive and board positions, including CEO and COO of The Stone Group, a leading multinational manufacturer of comfort and safety equipment for the passenger rail industry with operations in the United States, Spain, and England.
Litigation Support
- with extensive experience in valuing, financing, and selling businesses, Mr. Brownstein has served as Chief Restructuring Officer and Financial Advisor to debtors, lenders, and Creditor Committees in bankruptcy proceedings, and as a litigation expert in several cases, including the landmark Merry-Go-Round bankruptcy.
Areas of Expertise
:
Business Operations
Business Valuation
Turnaround Management

Restructuring
Bankruptcy
Corporate Governance
Education
: BS (Econ.), Wharton School, University of Pennsylvania; BA College of Arts & Sciences, University of Pennsylvania; JS, Harvard Law School; MBA, Harvard Business School.
View Howard Brownstein's Consulting Profile
.