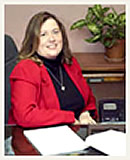 Kim A. Hart
has over 25 years of experience assisting attorneys in the successful defense of persons accused of
Child Abuse
and/or
Sex Crimes
as well as successfully appealing those wrongfully convicted of child abuse and/or sex crimes.
Since 1987, Kim Hart has worked with various attorneys on cases in every state in the United States and has the experience and knowledge to determine what issues must be addressed as well as which strategies have proven successful and which have not. She works with attorneys to plan and develop specialized defense strategies for those needing help defending their innocence including, but not limited to, allegations of:
Sexual Abuse
Physical Abuse

Shaken Baby
Child Neglect
Ms. Hart provides consulting and support services to defense teams during the investigative, pre-trial, trial, and appeals stages of Child Abuse and Sex Crime cases. Many of these child abuse and sex crime cases have been high-profile, and most cases resulted in successful outcomes for the clients. She and her team have been very successful with appellate work for those wrongfully convicted of child abuse. Ms. Hart has also works on civil litigation cases relevant to child abuse and sex crime cases.
Kim Hart is knowledgeable as to the current state of the science in child abuse cases and sex crimes as well as appeals case law, and is skillful at incorporating this information into specific cases. She maintains excellent professional relationships with the leading experts in every field of child abuse and sex crimes and can effectively integrate these experts into specific cases when necessary to a successful defense. Ms. Hart is an associate member of the National Association of Criminal Defense Lawyers and the National Legal Aid and Defender Association.
If overnight delivery of documents is needed, please call for physical address. References available upon request.
View Kim Hart's Consulting Profile
.
Isn't it interesting how the courts recognize taint in so many different contexts?1 We have an illegal search by the police and everything found during the illegal search becomes "fruit of the poisonous tree"-it is said to be tainted. The Houston Police Department's Crime Lab does not observe proper sterile procedures in handling DNA and the specimens are contaminated-they are said to be tainted. We have a lineup where the crime victim sees one White guy, three Hispanics, and two Blacks. The identification of the White guy is said to be tainted, the product of a suggestive or improper lineup.
---