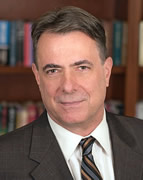 The Criminalization of End-of-Life Care and the Emergence of 'Clinical Forensic Medicine'
As Originally published in The Champion - Journal of The National Association of Criminal Defense Lawyers, November 2010.
By: John H. Fullerton & James Farragher Campbell
Tel: 415-202-9990
Email Dr. Fullerton

View
Profile
on
Experts.com
.
A disturbing trend has emerged involving criminal charges being levied against family caregivers treating end-of-life (EOL) elders with dementia. In the most common scenario, a younger family member (often the eldest daughter) becomes the home caregiver to an elderly relative as a result of one or more factors: (1) the family has been informed that further hospitalization will not be provided because there is simply nothing more medically that can be done for this patient in a hospital setting; (2) the family does not have the monetary resources to provide any care beyond what they can provide at home; (3) the family desires to honor the elder's wish to die at home without invasive hospital-based diagnostics, treatments, or advanced technology being utilized during the EOL phase; or (4) the family unit or the healthcare provider is not aware of the rights of the patient and the obligations of the treating healthcare provider surrounding proper certification under the Medicare Hospice Benefit during the EOL phase.
It is important to note the insufficiency of resources needed to train and monitor lay caregivers outside of a certified home hospice clinical scenario. Moreover, there are no guidelines for providing lay care, and no programs to educate families about when tbey may need assistance or guidance. To compound matters further, unrecognized caregivers could easily burnout and therefore may complicate the delivery of care, which ultimately will interfere with the health and welfare of all parties involved. Pilot programs are being considered to provide counseling and on-site training to address these problems.
Elder Abuse Prosecutions
In addition to the other problems mentioned, the criminal justice system is now involved. Noncaregiver relatives and representatives of local, state, or federal agencies are now turning to the criminal justice system for redress when they believe an elder is being abused or died under what they consider suspicious circumstances. In some cases, lay caregivers who believed they were honoring their loved one's wishes to stay at home at the end of life have faced allegations of homicide.
Why is this of importance and concern to the criminal defense bar? The American Geriatric Society (AGS) literature points out that the fastest growing population demographic in the country is the over-85 age group. It is widely reported that the majority of these patients have an element of dementia (including mild cognitive impairment) and up to 30 percent of these patients have the commonest form of dementia: Alzheimer's disease.1 Often undiagnosed in the hands of all inexperienced clinician during the early stages, today the diagnoses of various forms of dementia may often be reliably determined clinicaily, particularly if neuro-psychological testing is also utilized during the workup. It is therefore not necessary to wait for a post-mortem analysis as previously widely believed.
The genesis of "elder abuse" prosecutions can be traced to the many state and federal regulations now imposed on nursing homes that were meant to eliminate much of the widespread gross negligence and elder abuse (including the "warehousing of elders" in some nursing homes) occurring when patients 85 years and older needed long-term care. The detection of these situations may have encouraged some plaintiff's lawyers to pursue cases where fees and augmented damages could be awarded to the estate. These laws were drafted to attract attorneys to take these kinds of cases; previously, more limited damage awards and recoveries had impeded prosecutions. With increasing frequency, these same nursing homes, which are now under much stricter regulatory oversight, find themselves filled with these patients over 85 years of age who have co-existent dementia plus frailty.
When a family member suspects an elder has been neglected or abused in these facilities, these new statutory regulations buttress their civil claims for relief. But now, in certain instances, plaintiffs have also turned to the criminal justice system because of the enhanced investigatory resources it provides, as well as the leverage such criminal charges provide the plaintiffs in the civil cases. Consequently, there have been instances where caregivers in these facilities have been charged with homicide. These events have opened the door to the prosecution of lay caregivers) and to some extent their professional counterparts ministering to family members at home.
Lack of Expertise And Training
The problems inherent in civil cases with regard to expert witnesses carry over to the criminal prosecutions, except the impact of the "experts" generally only enhances the possibility of the improper filing of criminal charges. This flows from police or prosecutor reliance upon the opinion of medical examiners, forensic pathologists, and some forensic psychiatrists who simply do not have expertise in this specific area. While these individuals may have medical knowledge, and at times "chutazpah," they lack the clinical training and experience necessary to accurately evaluate not only capacity issues, but also determine the cause of injury or death in elder end-of-life care cases...
---
John H. Fullerton, MD, MRO, CMD, CFP, FACP, AGSF, FAAHPM is Board Certified in both Internal Medicine and in Geriatrics. He maintains active medical licenses in both California and Florida. He is also Board Certified in Hospice and Palliative Medicine and holds national certificates of added qualifications as a Certified Medical Director (CMD) at multiple levels of care locally and in Home Care (AAHCP). Dr. Fullerton specializes in comprehensive Internal Medicine, Geriatric care and consultation, Addiction Medicine, Medical Toxicology, and Hospice & Palliative Medicine.

©Copyright - All Rights Reserved
DO NOT REPRODUCE WITHOUT WRITTEN PERMISSION BY AUTHOR.