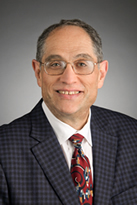 Mr. Bad Actor is a 61-year-old male who is the senior executive of the Unlucky Transportation Company. He has been in that position for more than ten years. Before his employment at the company, he worked for a series of unsuccessful transportation companies, where both he and other stakeholders lost most of their investment. He has ongoing legal and financial problems resulting from these prior business failures and from his failed marriage.
Mr. Bad Actor's responsibilities at the Unlucky Transportation Company are split between the company's accounting and operations departments, where much of his time is spent on dealing with billing adjustments that may arise due to customer complaints, products being shipped to incorrect locations, and credits given to special customers. No one checks his adjustments and Ms. Dutiful Employee processes all billing adjustments so long as she sees Mr. Bad Actor's initials on the billing adjustment request form.
After processing any credit voucher, Ms. Dutiful Employee scans the documentation and saves them in a file folder in the company's server that only she and Mr. Bad Actor can access. It is rumored that both Mr. Bad Actor and Ms. Dutiful Employee have personal financial difficulties and are living beyond their means. They often go drinking together after work.
Mr. Bad Actor is unusually close to certain company vendors and customers. Ms. Dutiful Employee has control issues and is unwilling to share any of her duties with others. Both employees have opted to have their unused vacation days paid in cash during the last few years-in fact, records show they have not taken any vacation or sick days for several years.
Several executives of the Unlucky Transportation Company and most of its employees are terrified of dealing with Mr. Bad Actor and Ms. Dutiful Employee because of his tendency to bully and intimidate others and her tendency to ignore requests for information and/or documentation-or to simply refer inquiries to him. One of those executives recently contacted Ms. Labor Lawyer, the company's general counsel to express concern about a rumor that one customer paid a kickback to Mr. Bad Actor in return for the Unlucky Transportation Company issuing it a large undeserved credit.
The company is owned by Mr. Absentee Owner, a passive investor who rarely gets involved with day-to-day affairs. The company managed to keep making small profits during the "Great Recession," but these profits have not increased as the economy has improved.
Mr. Absentee Owner recently discussed these issues with Ms. Labor Lawyer. She recently read your press release that the National Association of Certified Valuators and Analysts (NACVA) had credentialed you as a Master Analyst in Financial Forensics (MAFF). She called you to ask you to meet with her to establish if there were any "red flags" that she should be concerned with.
While Ms. Labor Lawyer decides her next steps regarding the Unlucky Transportation Company, she is concerned with several other significant issues relating to this client. She sees no "red flags" and believes any investigation is a waste of time and money and will only get in the way of other issues. Nonetheless, she has asked you to identify any "red flags" and explain what forensic investigations you intend to perform.
After completing your conflict check and obtaining your engagement letter and retainer check, you prepare the following memorandum: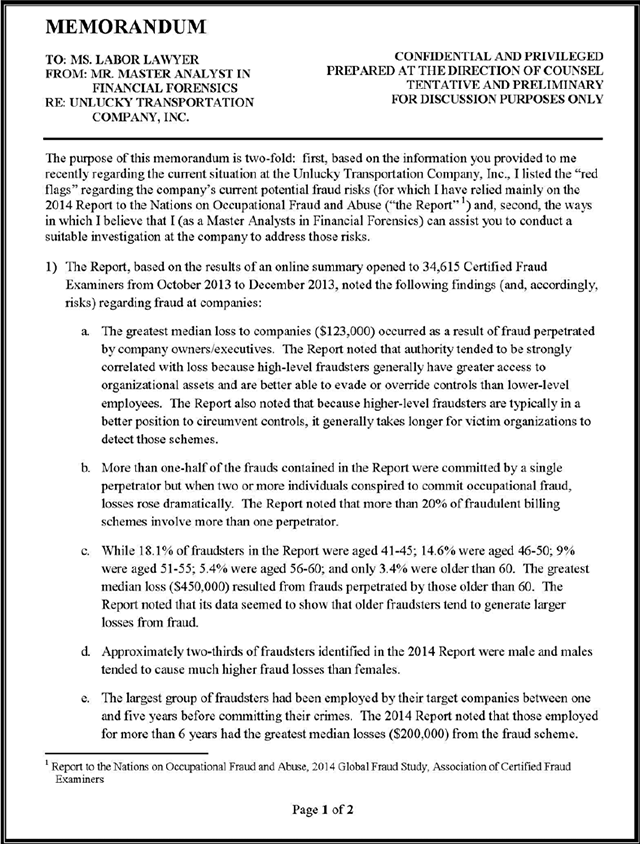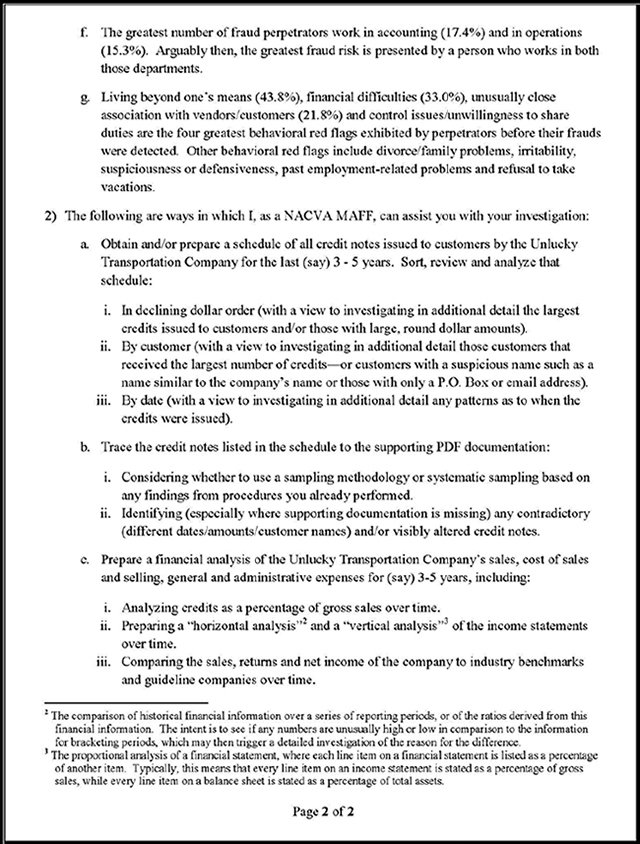 The above-contemplated communication to retaining counsel follows a methodology that, generally, is useful and valuable to corporate legal counsel performing internal investigations at companies. First, it lists the problem and/or current risks faced by the corporation. Second, it proposes a set or range of solutions to address those problems and/or risks.
Practitioners educated, skilled, and experienced in fraud investigations and financial forensics are uniquely positioned to assist the legal counsel of companies to identify "red flags" related to occupational fraud and to develop the requisite forensic investigative procedures. These practitioners should have the required special skills, training, and knowledge to design and implement procedures that properly investigate in order to uncover these frauds. However, care should be taken both in identifying and memorializing the scope of the engagement and designing and implementing the nature, timing, and extent of the procedures reasonably intended to meet engagement needs.
---
Michael D. Pakter CPA, CFF, CGMA, CFE, CVA, MAFF, CA, CIRA, CDBV focuses on accounting, forensic accounting, financial analysis, financial forensics, economic damages, business valuation and investigations. He has experience in lost profits / earnings, business interruption claims, analysis of financial transactions and balances, Court-ordered accounting, bankruptcy, fraud examinations, investigations and the reconstruction of incomplete, misstated and/or falsified financial information.

©Copyright - All Rights Reserved
DO NOT REPRODUCE WITHOUT WRITTEN PERMISSION BY AUTHOR.