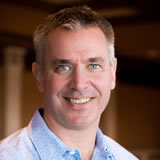 It's a common story: A cold-war era military base whose operating practices would cause environmental impacts to soil and groundwater for decades to come.
The common approach for addressing these base cleanups, through minimal annual appropriations by congress, has left many communities frustrated and angry with the slow pace and lack of progress toward remediation.
Dragun worked closely with one community that did something no one else had ever done. They sued the US Government to take control of the investigation and remediation.
First, some background information:
The base was closed in 1965. In the 1980s, the community discovered a plume of volatile organic compounds in the aquifer that serves as the community's source of drinking water.
In actuality, we later discovered multiple trichloroethylene and carbon tetrachloride plumes at multiple depths. A further complicating factor was the (later) detection of PFAS in groundwater.
The video link below allows our clients to tell the story much better than we can.
Why Dragun?
When the community began this singularly-ambitious undertaking, they knew they needed the right team (legal and technical) to help them succeed. They interviewed several environmental consulting firms but chose Dragun because, according to the Salina City Manager, "Dragun rose to the top."
Remarkably, we were able to complete the remedial investigation and feasibility study under budget and well ahead of schedule.
We believe that this approach, putting the control in the hands of the local community rather than a federal agency, makes a lot of sense. After all, who knows the "pain" more intimately and has more to gain from a solution than those most proximate to the issue?
---
Dragun Corporation is an industry leader in Environmental Regulatory Issues and Consulting for clients across North America and internationally. From manufacturing and real estate to chemical companies and livestock agriculture and municipalities. At Dragun, science, engineering, and decades of expertise converge through in-depth critical analysis, conceptualized approaches, and technical application. The result is an environmental site assessment, remediation, compliance assessment, or expert services support that helps clients in diverse industries.

©Copyright - All Rights Reserved
DO NOT REPRODUCE WITHOUT WRITTEN PERMISSION BY AUTHOR.