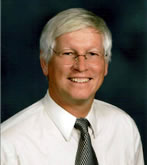 Wayne J. Seiler, PhD, PE
, is a Principal Engineer with All About Pavements Inc (API), with responsibility for
Airport, Highway, and Port Pavement
engineering and construction projects. With over 38 years of pavement engineering expertise, he is a Registered Professional Engineer in Minnesota, Illinois, North Carolina, Florida, Virginia, Maryland, and Mississippi.
Dr. Seiler has conducted pavement evaluations and developed numerous pavement designs for the reconstruction and rehabilitation of airports throughout the United States during his 38 year career. As a project manager, he has completed pavement evaluation, rehabilitation design, and pavement management work for several commercial airports, including BWI, Charlotte International Airport, Portland International Airport, Pittsburgh International Airport, O'Hare International Airport, Raleigh-Durham International Airport, Dayton International Airport, Wichita's Mid-Continental Airport, and Montreal's Mirabel and Dorval International Airports. These studies were accomplished through extensive records review, thorough investigations, pavement condition index surveys, nondestructive deflection testing, remaining life analyses, rehabilitation design using FAA procedures and more advanced mechanistic analyses, and life cycle cost comparisons.
In 2017, ASCE's Transportation & Development Institute awarded Dr. Seiler with their national Airfield Pavement Practitioner Award. This award honors and recognizes practicing engineers employed in the airfield pavement engineering profession with demonstrated leadership and achievement in airfield pavement projects.
Litigation Support
- Dr. Seiler has provided expert witness and expert consultant services to assist in the investigation of
Pavement Failures
that have occurred shortly after construction. Engineering services include data collection with Nondestructive Deflection Testing equipment and the use of local geotechnical laboratories at the project site.
To assist in legal case resolution, API owns two Falling Weight Deflectometers that can be used to successfully gather forensic data to complement his pavement expertise. Dr. Seiler recently helped the Cities of Concord and Manchester New Hampshire defend permitting fees that charge utility companies for constructing deep utility cuts that reduce the life of roadways in their cities. The case was successfully defended all the way to the New Hampshire Supreme Court after appeals by the prosecution.
View API's Consulting Profile
.