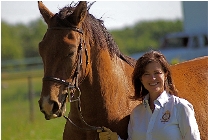 Bridget Brandon of ValueMyHorse Equine Appraisals specializes in educating attorneys in case specific horse terminology, developing valuation appraisals, testifying in court, finding critical evidence, analyzing crucial facts, and creating relevant witness questions. She provides the legal community with a wide range of analysis, education and support for equine-related proceedings throughout the United States. ValueMyHorse services clients from any locality and any state needing expertise in the area of Sporthorses, Performance Horses, pleasure horses and breeding. Bridget has testimony experience and is qualified as an expert. USPAP certified,
ValueMyHorse understands the Uniform Standards of Professional Appraisal Practice (USPAP) compliance issues. They also know what it takes to comply with the IRS Federal Code of Regulations with respect to being "qualified" appraisers developing a "qualified" appraisal in accordance with AQB (Appraisal Qualifications Board). Whether to support business valuation and profit motive claims for dissolution of marriage, charitable donations of horses, estate valuation, partnership disputes, or IRS related issues. ValueMyHorse is available with regard to IRS Hobby Loss Issues, the Relevant Market, Type of Horse, Horse Show Issues, Breeding Issues, Boarding, Care, Custody and Control, Highest and Best Use, and Fungibility.
Selected Case Examples:
Appraised investment horse for syndication group law suit (plaintiff)
Appraised show jumper in lawsuit concerning misrepresentation of age (plaintiff)
Consulted on malpractice law suit concerning value of deceased dressage / breeding stallion - loss of income from stud fees and sale of offspring (defendant)
Appraised imported Grand Prix prospect in a trailer accident and eventually euthanized due to injuries (defendant)
Appraised dressage horse injured in care of veterinarian (defendant)
Appraised jumper injured in a trailer accident (defendant)
Appraised a deceased western pleasure show horse who was electrified (defendant)
Appraised reining horse for bank regarding defaulted loan (plaintiff)
Appraised jumper who died of injuries obtained while in her stall (defendant)
On May 30, 2011, the Texas Board of Veterinary Medical Examiners became one step away from having the authority to regulate non-veterinarian equine dentists.
---
Because the cost of a lawsuit is so steep, make sure your "horse transaction" is memorialized with a lawyer-prepared, well-written contract. The small contract prep charge will be a fraction of litigation expenses and heartbreak. If you cannot locate an equine attorney, an attorney specializing in contracts will work just fine. It always amazes me that written contracts are not demanded of every horse purchase or sale. Even on "small&qout; transactions…demand them in writing or do not do the "deal&qout;!
---
There are some very important preliminary questions you should always ask when buying a horse. These screening questions should be asked right up front. If at all possible, you should ask these questions initially on the phone prior to seeing the horse.
---
You've decided to buy a horse and you have now located the horse of your dreams. There are a lot of emotions involved.
---
Open-ended horse deals are quickly coming to an end. Florida has a statute (Section 535.16 of the Florida Statutes) and the California Legislature recently amended a similar one that now requires written documentation for horse sales.
---