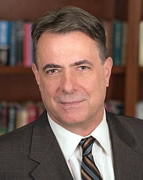 John H. Fullerton, MD, MRO, CMD, CFP, FACP, AGSF, FAAHPM, FASAM is Board Certified in Internal Medicine, Geriatric Medicine, Addiction Medicine and Hospice & Palliative Medicine. Dr. Fullerton maintains active medical licenses in both California and Florida and holds additional national certificates of added qualifications as a Certified Medical Director (CMD) at multiple levels of care locally and in Home Care (AAHCP). Dr. Fullerton is a certified Clinical Forensics Expert, who has participated in nationally recognized Elder Abuse Cases, including the cases of "lay caregivers" misguidedly criminally charged with homicide or manslaughter after caring for a loved one at home with advanced dementias. He has been vetted by the Department of Homeland Security, the Department of Justice, the Office of The Inspector General, and the FBI to perform the duties of a government expert in cases of Criminal Healthcare Fraud. He has served as a key expert witness in the continuing efforts of 'Operation HEAT' and been on the winning side of three criminal convictions. Over roughly the past 14 years, Dr. Fullerton has provided independent medical expert testimony and clinical forensic medical testimony in more than 200 cases and reviewed over 1,500 files (including Medicare Audits for the Government). He has focused his medical expertise in mostly Personal Injury, Medical Malpractice, Determinations of Medicare Medical Necessity matters, and Civil & Criminal cases alleging Elder Abuse (including homicide) at either discovery, deposition or at trial testifying for both plaintiff and defense cases, respectively. Areas of Expertise:
Adult Hospital Medicine
Ambulatory Care - Internal Medicine & Geriatrics
Geriatric Approaches to Gero-Psychiatry
Immuno-Compromised Host 1 Treatment
Long Term Care - SNF
Sub-Acute Rehabilitation
Assisted Living - Secured Dementia Units

LTC / Hospice Medical Directorships
Hospice & Palliative Care Units
Home Care
Elder Abuse Defense Cases
Preventable Falls
Pressure Wounds / Pain Management
Addiction Medicine - Forensic Toxicology / DUI Defense Cases
From the days of "Reefer Madness" until the timing of Proposition 19 with the "Legalization of Marijuana Initiative" on the ballot last November, the controversies swirling around not only the recreational use, but also the medical use of marijuana, particularly in frail, elderly geriatric patients with clinically significant weight loss (and cachexia), has been fraught with controversy. Even though the ballot initiative from 2010 went down in defeat on November 2, 2010, rumblings of some of the authors bringing another, more "targeted" CA initiative in 2012 are regaining momentum.
---
A disturbing trend has emerged involving criminal charges being levied against family caregivers treating end-of-life (EOL) elders with dementia.
---