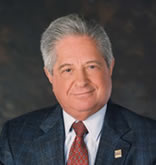 Attorney, Lawrence H. Jacobson
, has been practicing in the area of
Real Estate Transaction Law and Litigation
for more than 50 years. Over the past 30 years, he has been sought out as an expert witness in real estate and legal malpractice disputes and lawsuits in litigation cases throughout the country. His firm, The Law Offices of Lawrence H. Jacobson, A Professional Corporation, is recognized as one of the nation's premier offices providing expert testimony in litigation involving all
Real Estate Matters and Legal Malpractice
.
Mr. Jacobson has been engaged in the practice of law in Los Angeles since 1968. Formerly Vice President of Legal Affairs for the California Association of Realtors, Mr. Jacobson has served as a judge pro tem for the Los Angeles and Beverly Hills Municipal Court Systems and as an adjunct professor of law focusing on real estate secured transactions and administrative law. He is Past President of the Beverly Hills Bar Association. He has written and lectured extensively on business and real estate related matters. He has served on the faculty of the Graduate Realtors Institute of the California Association of Realtors and a lecturer author for the California Continuing Education of the California Bar.
Litigation Support
- Mr. Jacobson offers an impressive record of success as an expert witness in real estate, business and finance. Included among the numerous cases in which he has testified as an expert witness are disputes over the interpretation of real estate documents, real estate and mortgage brokers' standard of care and legal malpractice related to real estate transactions and business law including issues involved in corporate finance, merger and acquisition and ethics.
Areas of Expertise
:
Real Estate Agency Obligations
Real Estate Broker Fiduciary Duty
Mortgage Broker Fiduciary Duty
Commercial & Residential Real Estate
Leasing Issues
Real Estate Malpractice
Mortgage Fraud

Mortgage Lending
Real Estate Ethics
Real Estate Standard of Care
Real Estate Standard of Practice
Real Estate Transactions
Legal Malpractice
Legal Fee Disputes
View Lawrence Jacobson's Consulting Profile
.
The tenancy-in-common (TIC) has survived into modern times as a method of concurrent ownership of real property. In a TIC, each owner is referred to as a tenant-in-common, and each owns a fractional interest of real property under a separate distinct title.1 TIC's are common where the co-owners are not married or have contributed different amounts to the acquisition of a property.2 Insofar as each tenant-in-common owns an undivided interest in the entire property, each is entitled to an undivided interest in the revenues from the property, subject to the rights of the other co-tenants.
---
A lawyer who is also an expert witness should be mindful that although he or she may not always be wearing his or her "lawyer hat," it is never far away. Although the California Rules of Professional Conduct do not place specific restrictions on practitioners who act as both lawyers and expert witnesses, the rules governing lawyers' conduct generally place constraints on lawyers' activities in other businesses and professions. See California State Bar Ethics Opinion No. 1995-14. Of particular importance are the rules relating to advertising, lawyer-client confidences, competence, fee arbitration, and conflicts of interest.
---
Although many articles have been written about the use of the expert witness in litigation, almost all are written by lawyers and rarely by an expert witness who is also a lawyer. Having practiced law since 1968 in the area of real estate and business transactions with a real estate broker's license since 1978, I have testified frequently as an expert witness in litigation involving the interpretation of real estate documents, the standard of care of real estate brokers, in legal malpractice actions involving real estate and business transactions and in legal fee disputes. As such, I thought it would be helpful to litigators handling real estate litigation matters to have the perspective of an expert witness on issues affecting the choice, usage and cross-examination of an expert witness in such litigation.
---