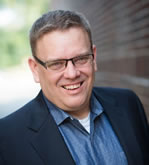 This is the first in a series of six posts on how to overcome contractual challenges for data center projects. The series will address:
Part 1: Integration of Facilities & Technology
Part 2: Facility Design/Construction
Part 3: Technology Design/Implementation
Part 4: Network Services
Part 5: Migration Services
Part 6: Multi-Level Contract Relationships
This post will address the integration of facilities and technology. A turn-key data center project includes several discrete services and scopes of work that are normally not combined into a single contract for enterprise, colocation or cloud service provider data center projects. There is no single vendor that self performs the full stack of services for a complete turn-key solution. Data Center owners must understand the scope of service boundaries of their vendors to ensure that no overlap or gaps in scope exist.
Project Management 101 has shown how the value of clearly defining all the services and scopes of work required is critical for a successful project. However, this can be challenging for a turn-key data center project where procurement methods, industry standard contract language and quality control processes vary significantly between: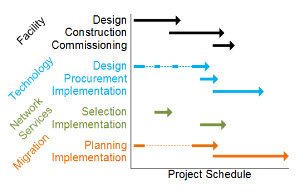 technology design, procurement & implementation
selection and implementation of network services
migration planning & implementation
If these primary areas of responsibility are not integrated or coordinated it will have an adverse impact on the success of the project, including cost, schedule or quality. Some of the possible adverse effects include:
Disconnect between Owner's expectations and budget
Level of redundancy or reliability of critical support systems, or expected availability of IT services, less than required by Owner
Unnecessary constraints on IT operations due to facility or technology design decisions madeM
Data Center capacity (space, power, cooling, network, compute, storage) not aligned with IT system forecasts
Data Center operating costs in excess of projections
Disorganized schedule with disruptive overlaps or gaps between primary areas of responsibility
Incomplete budgets with gaps, or disorganized budgets with overlaps, between primary areas of responsibility
The three basic approaches that can facilitate a seamless integration and coordination between these primary areas are:
Owner manages each of these primary areas separately with internal personnel
Owner selects one vendor to act as prime for the turn-key project, with the prime vendor being responsible for all other vendors that provide products and services outside of the prime vendors core skills and services
Owner selects a Data Center Program Manager consultant to plan and execute coordination and integration between all primary areas of responsibility, Data Center Program Manager is independent of vendors responsible for design, construction, procurement, implementation and IT services
Each of these basic approaches can work well, resulting in a successful project, as long as it is clear who has the responsibility and skills to ensure there are no disruptive overlaps or gaps in scope, budget and schedule. Whoever is responsible for the integration and coordination between the primary areas of responsibility must have significant experience on data center projects and be knowledgeable in the full stack of data center vendor services including: data center facility design & construction; technology design, procurement & implementation; network services selection & implementation, and; migration planning & implementation.
---
Philip J. Isaak, PE, P.Eng., DCDC, RCDD, SMIEEE is an expert witness, consultant & trainer in the design, construction, procurement, implementation, commissioning & operations of information technology, telecommunications & critical data center facilities. Mr. Isaak provides clear analysis for complex disputes, incorporating industry standards, best-practices and over 20 years of consulting & training expertise working with clients located in 28 countries and territories across 6 continents.

©Copyright - All Rights Reserved
DO NOT REPRODUCE WITHOUT WRITTEN PERMISSION BY AUTHOR.