Griswold Real Estate Management has been dedicated to providing superior Property Management, Receivership, and Expert Witness Services for over 30 years. With offices in Las Vegas, San Diego, and Los Angeles, they serve southern Nevada and all five southern California counties. Properties include single family homes, condominiums, apartment communities, homeowners associations, commercial and retail space, and self storage facilities. Griswold Real Estate Management has been awarded the Accredited Management Organization (AMO®) designation from the Institute of Real Estate Management (IREM). Across the country, less than 5% of all management firms have earned this distinction, by fulfilling the most stringent requirements in expertise, education, integrity, and financial stability.
Property Management Services:
Highly Responsive Management Team
Aggressive Marketing Plan
Comprehensive Tenant Screening
Aggressive Rent Collection
24-hour On-call Maintenance

Complete Financial Accounting
Annual Budget Preparation
Review of Vendor Contracts
Vendor Supervision
Personalized Service and Expertise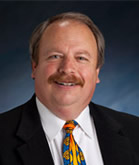 Principal, Robert S. Griswold, CRE, CPM, CCIM, PCAM, CCAM, GRI, ARM, is currently active as a day-to-day hands-on, licensed practitioner, consultant, and expert witness in all aspects of real estate (except valuation). A 3-time graduate of the distinguished Marshall School of Business at the University of Southern California with a BS ('81), MBA ('86) and MSBA (2nd Masters) ('88) in real estate and related disciplines, Mr. Griswold is a recognized expert on management of all types of residential real estate. He has actively managed over 60,000 residential units and several million square feet of commercial, industrial, self-storage and retail properties nationally in the last 30 years. He has extensive experience as a court-appointed receiver (nearly 200 times) for private lenders and major financial institutions.
Author - Robert Griswold is the author of the nationally best selling book on real estate management, Property Management Kit For Dummies, which has sold over 100,000 copies in less than 5 years. He also co-authored Real Estate Investing For Dummies, another bestseller in the category with nearly 100,000 copies sold, and Landlord's Legal Kit For Dummies, published in 2014.
Media Consultant - Since 1995, Mr. Griswold has appeared as the Real Estate Expert for an NBC-owned affiliate in San Diego and weekly on NBC News This Weekend answering live impromptu questions on any aspect of real estate from viewers. He was the host of the longest running weekly 2-hour live real estate news, information, and advice radio show in the country for over 14 years. The show, Real Estate Today! with Robert Griswold (along with his work for NBC) has won 5 national journalism awards and is unlike other real estate radio shows as his show is non-advertorial in nature.
Robert S. Griswold, et al
Do you want to get involved in real estate investing, but aren't quite sure where to start? Real Estate Investing For Dummies is your go-to resource for making sense of the subject, offering plain-English, step-by-step explanations of everything you need to know to keep yourself one step ahead of the competition. Inside, you'll discover how to overcome the challenges of the market, take advantage of the opportunities in any real estate environment—including a down market—and so much more.
---
Robert S. Griswold
A comprehensive guide to the laws and legalities of renting property. This one-stop legal reference provides both guidance and the correct forms that help landlords avoid tenant issues, which could lead to legal ramifications. From screening potential tenants to handling your own insurance and taxes, you'll find expert insight in this easy-to-read style that simplifies complex legal matters into understandable terms. The book includes access to all the needed legal forms in both English and Spanish, and contains current information about applicable codes, ordinances, and policies across the country.
---
Robert S. Griswold
Thinking about becoming a landlord? This book gives you proven strategies for establishing and maintaining rental properties, whether a single family or multi-resident unit. You'll find out how to prepare and promote your properties, select tenants, handle repairs, avoid costly mistakes and legal missteps—and meet your long-term goals.
---