Gregory J. Cahanin Fire & Code Consulting
works with clients to evaluate designs and buildings against code requirements, and resolve compliance issues identified by building or fire code officials. Services are available to architects, designers, property owners, and manufacturers.
Services:
Fire Protection Analysis
Fire Rated Construction
Specifications Sprinkler specification and design
Fire Alarm System specification
Atria Smoke Management Systems
Hazardous Materials Handling and Storage
Life Safety Code Compliance
Pre-submittal Plan Review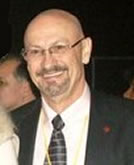 Gregory J. Cahanin
has worked in the Fire Protection and Life Safety field for over 40 years. He is nationally recognized as a
Life Safety and Fire Protection
expert, working with manufacturers on product and fire code development in addition to working with designers and building owners to achieve compliance.
Background
- Mr. Cahanin served as a Senior Life Safety Engineer with the National Fire Protection Association (NFPA), the organization that writes Fire Protection Codes and Standards. He was staff liaison for building construction standards and the Fire Prevention Code. Special project work included support of the International Division of NFPA in a survey of fire protection for all oil production facilities of LaGoven SA in Venezuela; an evaluation of the existing airport terminal in Rio De Janeiro, Brazil; and a code comparison study for the National Institute of Building Sciences. Mr. Cahanin investigated multiple fatality fires for NFPA and his reports are nationally published and peer reviewed. Mr. Cahanin holds Professional Grade Membership in the Society of Fire Protection Engineers. Mr. Cahanin has earned three undergraduate degrees in Fire Science and Fire Protection and a Master in Public Administration.
Projects of Note:
Hemingway Pilar Rum Distillery
Hemingway Pilar Rum Bottling Plant
Space Machine Brazing Dip Facility
Sarasota Opera House Smoke Control System
Hydrotech Rubberized Asphalt Melters
Cornell Cookson UL Standard Development
Smokeguard Corporation Elevator Lobby Standards
Mahaffey Theater Renovation
Thermotex Corporation Theater Fire Curtains
View Gregory Cahanin's Expert Witness Profile
.