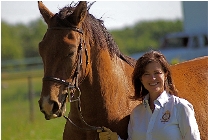 ValueMyHorse is an Equine Valuation and Equine Consulting company specializing in Sporthorses and Performance Horses, Hunter / Jumper, Dressage, Eventing, Breeding, Reining, Cutting and Working Cow Horses.
Owned and operated by Bridget Brandon, ValueMyHorse is qualified to identify characteristics of different breeds and disciplines of horses. They have a thorough understanding of the appraisal business, are certified by, and follow USPAP Standards (Uniform Standards of Professional Appraisal. ValueMyHorse also adheres to IRS Federal Code of Regulations with respect to being "qualified" appraisers developing a "qualified" appraisal in accordance with AQB (Appraisal Qualifications Board). Equine Appraisals by ValueMyHorse compare such factors as purchase price, training, competitive records, breeding record, lineage, health, age, show records and market comparison. Testimonials to the horse's character, health and potential performance from owners, trainers, judges, breeders, and veterinarians who are familiar with the horse are also taken into consideration when appraising a horse. Ms. Brandon understands how restrictions, markets, evidence, sources, comparisons, and intended use affect the outcome of each appraisal.
Consulting Services Provided For:
Fraud and Contract Disputes
Valuation for FDIC Secured Loans
Collateral for Lending Institutions
IRS Inquiries and Tax Audit Assistance
Comprehensive Retrospective and Prospective Valuation

Estate and Divorce Settlement
Tax Deduction for Donation
Insurance Policies and Claims
Asset Evaluation
Market Value Comparisons
Sale / Lease / Syndication
On May 30, 2011, the Texas Board of Veterinary Medical Examiners became one step away from having the authority to regulate non-veterinarian equine dentists.
---
Because the cost of a lawsuit is so steep, make sure your "horse transaction" is memorialized with a lawyer-prepared, well-written contract. The small contract prep charge will be a fraction of litigation expenses and heartbreak. If you cannot locate an equine attorney, an attorney specializing in contracts will work just fine. It always amazes me that written contracts are not demanded of every horse purchase or sale. Even on "small&qout; transactions…demand them in writing or do not do the "deal&qout;!
---
There are some very important preliminary questions you should always ask when buying a horse. These screening questions should be asked right up front. If at all possible, you should ask these questions initially on the phone prior to seeing the horse.
---
You've decided to buy a horse and you have now located the horse of your dreams. There are a lot of emotions involved.
---
Open-ended horse deals are quickly coming to an end. Florida has a statute (Section 535.16 of the Florida Statutes) and the California Legislature recently amended a similar one that now requires written documentation for horse sales.
---