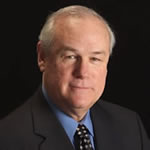 Dr. Philip Hayden, EdD
, retired Supervisory Special Agent of the FBI, provides
Investigative Consulting and Training
in the areas of
Use of Force, Law Enforcement Tactics and Training
, and
Mental Mindset.
Dr. Hayden is currently the co-founder of Concepts & Tactics for Survival, Inc. (CATS), a company dedicated to training for high-risk situations in the law enforcement arena. The training programs at CATS are based on the FBI training programs designed, developed and instituted by Dr. Hayden while assigned at the FBI Academy, Quantico, VA. This program, known as The Law Enforcement Training for Safety and Survival (LETSS), became the cornerstone of the FBI's Street Survival training for police officers worldwide.
Dr. Hayden also has been a Supervisory Special Agent for the FBI Academy. For more than 15 years he carried out training and instruction for the Law Enforcement Training for Safety and Survival program as a tactical instructor for new agent training. He has written dozens of articles and instruction manuals for the FBI, such as the implementation of the
FBI Deadly Force Policy for Federal Violent Crimes Task Forces
,
How to Conduct High-Risk Arrests
, and
Safe Apprehension of Dangerous Criminals
.
The LETSS survival awareness training program is focused on the three core elements of survival:
Mental Preparation, Skill Enhancement and Physical Capability
. The course has received public acclaim for saving the lives of officers involved in a critical incident. The recognition has been documented in both the domestic and international law enforcement communities including Armenia, Brazil, Bulgaria, Estonia, Georgia, Guyana, Hungary, Indonesia, Iraq, Jordan, Kazakhstan, Kyrgyzstan, Moldova, Mexico, New Zealand, Nigeria, Pakistan, Porto Rico, Qatar, Romania, Russia, South Africa, Taiwan, Tajikistan, Trinidad/Tobago, Ukraine, United Arab Emirates, Uzbekistan and the Virgin Islands.
The courses offered by CATS (a mirror program of LETSS) are designed for the individual or team involved in law enforcement, security and personal protection. The blocks of instruction address several topics and include lecture and discussion in the following areas:
Arrest Planning
Marksmanship
Leadership Development
Arrest Execution
Instinctive Shooting
Defensive Tactics
Basic Swat
Close Quarter Battle
Surveillance

Advanced SWAT
Combat Shooting
Counter-Surveillance
Executive Protection
Observer / Sniper
Facility Security
Personal Security
Risk Assessments
Threat Recognition
View Expert Witness Profile
.