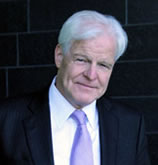 C. Thomas Vangsness Jr., MD
, is a board certified
Orthopedic Surgeon
, Chief of Sports Medicine at USC, and a tenured Professor of Orthopedic Surgery at the Keck School of Medicine at USC.
Upon graduation from medical school, he completed his Residency in Orthopaedic Surgery along with two fellowships in Sports Medicine and Bioengineering. Dr. Vangsness specializes in the conservative and operative treatment of Sports Injuries and is recognized as a leader in the field of
Sports Medicine
. Over his 30 year career, he has published more than 100 journal articles, lectured extensively both nationally and internationally, has been on the editorial boards of several journals, and is the recipient of numerous academic awards for his contributions to the field. Dr. Vangsness has recently published a book entitled
The New Science of Overcoming Arthritis
.
In 2014, Orthopedics
This Week
named Dr. Vangsness as one of the "Top 28 North American Sports Knee Surgeons". In 2016, Castle Connolly named Dr. Vangsness as one of America's Top Doctors. In Southern California, he continues to be voted top doctor numerous times and received multiple awards in both Los Angeles and Pasadena.
Litigation Support
- Dr. Vangsness has been providing expert witness services for numerous years. His services include consultations, medical record reviews, and independent medical exams. As an expert witness, he has presented 30 depositions and issued numerous expert opinions. He has experience in a wide range of cases including workman's compensation, personal injury, and medical malpractice.
Areas of Expertise
:
Orthopedic Surgery
Sports Medicine
Musculoskeletal Injuries
Knee Surgery

Shoulder Surgery
Rotator Cuff Surgery
Arthritis
Knee Arthroscopy
View Dr. Vangsness' Consulting Profile
.
When joint problems escalate to the point of needing special treatment, it is time to research orthopedic surgeons. As you consider your treatment options, it is important to choose an orthopedic surgeon who can accurately meet your needs. To ensure that you make the best choice, identify your needs, do your research, and ask the right questions.
---
C. Thomas Vangsness, Jr., MD
This book offers a plan for anyone who wants to prevent or reverse their pain, discomfort, and limitations. It is the first book on arthritis that incorporates the latest research and treatment strategies for a disease that the vast majority of baby boomers will inevitably have to learn to live with. What's more, it provides younger generations with an easy-to-follow game plan for minimizing and even avoiding the more debilitating aspects of arthritis.
---