*Enter State Names or Abbreviations. Use space to separate multiple states e.g. CA Washington NY
Fenestrations: Doors - Windows - Gates
Expert Witnesses

:

1
Select Experts. Start Inqury.
Construction Expert Witness Michael Panish
Michael Panish
Construction, Door, Gate Expert Witness & Consultant
PO Box 725
Woodland Hills, CA 91365
---------- Available ----------
ALL STATES
USA, International, CAN
phone: 888-902-4272
fax: 818-888-7302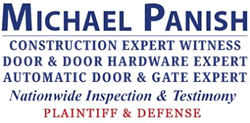 Mike Panish is an expert witness & consultant for most construction trades, specializing in automatic door systems and door sensors, door, door hardware, cabinetry, and architectural millwork. Extensive experience working for plaintiff & defense (Federal & State). Highly credible & solid testimony. Licensed in CA as a General Building Contractor, Electrical Contractor, Door, Lock & Security Equipment Contractor, Cabinet & Millwork Contractor, and Painting & Finish Specialties Contractor. Over 40 years hands-on experience in all construction trades with over 2000 cases since the year 2000. Local to CA & New England. Nationwide Inspection & Testimony in every state and internationally.
Mike Panish is the most retained and the leading expert witness for Automatic Door injuries / Wrongful Death and Door Defects and Injuries. Security issues relating to daycare & healthcare centers. Construction defects, product liability, poor workmanship relating to contractor vs homeowner disputes and contractor fraud.
Areas of Expertise:
Automatic Door Personal Injury, Wrongful Death Cases
Door and Door Hardware Personal Injury, Wrongful Death, Defects Cases
Gates (all types including sliding, parking arm gates)
Cabinetry, Architectural Millwork, Furniture Personal injury, Defects Cases
Slip, Trip, Fall / Railings / ADA Personal Injury Cases
General Construction (all trades) Defects Cases, Personal Injury Cases, Wrongful Death
Premises Liability, Premises Security for Criminal Cases, Elder Abuse Cases, Wrongful Death
Building Inspections (all types), Site Evaluation, Product Evaluation, Defect Analysis, Poor Workmanship, Costs & Estimates, Plans Analysis, Proper Installation, Claim Analysis
As a construction expert witness, I am often asked about the importance of using safety equipment. I have many years of personal experiences with the proper observance of safety procedures and appropriate safety equipment requirements.
---
I have been the retained expert witness by both the plaintiff and defendant to determine the causes of a variety of significant injuries that have happened as a result of improper cabinet and millwork installation practices. In most claims, if product abuse or deferred condition was not the reason for the injury, poor installation practices that have omitted required hardware was to blame. Architectural millwork injuries have occurred repeatedly in shopping centers and malls, hotels, hospitals, airports, and offices throughout the country. Casinos and restaurants are also routinely the location of significant cabinetry related failures leading to serious injuries. Many offices and industrial buildings that utilize modular furniture have had employees injured by improper or completely unattached components. In my other articles, improperly attached architectural millwork has been discussed. Heavy mirrors and headwalls have fallen upon hotel guests while they were asleep in bed. Generally, these failures occur due to lack of appropriate fasteners, missed structural connections, or product tampering.
---
Mechanical fasteners, when properly used as recommended by the manufacturer, almost always assure safe and secure attachment of a fastened product. In commercial and residential applications, injuries resulting from mechanical attachment failures have often been attributed to inappropriate usage of products, improper installation procedures, or the failure of a poorly manufactured fastening product. When a product becomes disconnected from its point of attachment, serious personal injury can result.
---
This article will discuss plastic laminated products only. Although many other laminated materials are used for residential and commercial applications, plastic laminates are one of the most common products involved in casework claims and personal injuries.
---
My job as a cabinetry and millwork expert witness is to inspect and evaluate casework, cabinetry, or millwork that may have either failed or may be deficient in some way. Many of the past cases where I have been designated as the cabinetry and millwork expert witness have involved analyzing products that no longer exist because they have either been replaced or destroyed. What is available for review is often in the form of architectural elevations (renderings), photographs of the damaged cabinetry, or shop drawings and samples of the materials that were used. Generally, there is a question as to what entity is responsible for the monetary loss sustained. The usual course of action by attorneys is to sue all parties in the chain of events, from design through installation.
---
Having recently testified as the door hardware, lock and security expert witness on a very serious elder abuse case involving the rape of a 93 year old resident of a retirement home, I am intimately aware of the potential for physical violence and neglect aimed directly at senior citizens. The following is about a completely different kind of abuse involving our senior population.
---
Rape and patient abuse are more prevalent and common place in daycare and long term skilled nursing facilities than anyone would think possible.
---
The first two questions that I am often asked by attorneys during deposition or trial testimony are "On what percentage of cases do you work for the Plaintiff?" and "On what percentage of cases do you work for the Defense?"
---
Most of the misunderstandings pertaining to contractor and homeowner relationships occur as a result of unclear or wrongly interpreted construction contracts. Upon entering into a building contract, the enthusiasm for starting the proposed work often creates a kind of glazing over or dulling of the senses on the part of the homeowner. Many times questionable terms and arrangements for payment scheduling are accepted or unknowingly agreed to as the homeowner's urgent desire to start work overshadows common sense. Often, the lowest priced contractor seduces the homeowner with promises of more value for the money.
---
As a Construction Expert Witness, I have been involved in numerous homeowner vs. contractor lawsuits that turned out to be directly created by contractor fraud. In this article, I have combined a few different actual cases, highlighting the various tactics used by dishonest contractors to bait and then hook the homeowner. In all of these cases, the homeowner prevailed.
---
The need to have increased security to public venues such as airports, schools, religious facilities, day care centers, shopping centers, and government buildings is nothing new. However, it has become apparent that many unexpected assaults and deadly attacks are coming from individuals that have gained a certain level of intimacy with the venues and organizations that they are invading. The attackers are not necessarily strangers, but people we know.
---
In December of 2012 a gunman broke into Sandy Hook Elementary School in Connecticut and viciously murdered 20 children and 6 administrators. Adding Sandy Hook Elementary School to a growing list of other tragic school shootings confirms that any educational institution should be considered a viable target for future attacks.
---
Every good attorney needs to consider the validity of every potential claim. As the most frequently retained door expert witness, working for both Plaintiff and Defense evenly, I have been retained on door injury and wrongful death claims that were not caused by malfunctioning doors or door hardware. As discovery has often shown, people in poor physical or mental condition who are left unattended or unassisted while moving through properly functioning doorways are often the genesis of their own injuries. All commercial venues have the responsibility to maintain their facilities to industry wide standards, seek proper routine maintenance, and provide daily inspections of their door systems. However, it is difficult to provide safe passage to every patron of their facilities when some of those patrons may include persons requiring diligent physical supervision, special assistance walking, or have special needs due to disease, mental incapacity, or other unknown infirmities.
---
Injuries resulting from panic hardware are more prevalent than you might think. Injuries can be due to lack of maintenance on these devices and/or installation of spurious parts or components.
---
One of the most common types of expert related calls that I receive pertains to some sort of door injury. Door injuries caused by automatic pedestrian doors, manual doors, or garage doors often lead to serious and potentially life threatening high dollar liability and personal injury lawsuits. My case load as a door expert witness is evenly split between plaintiff and defense. I have written articles, testified, and been consultant on many door injury cases throughout the country and abroad. In addition, my services have been utilized by defense teams representing cross defendants such as door maintenance companies also named in the chain of commerce.
---
As a door expert, I am called upon many times a year to evaluate garage door injuries. In my professional career as a general contractor and door & hardware contractor, I have installed many different types of garage doors. I have been involved with roll up doors, both for commercial warehouse applications and automotive repair facilities that allow the passage of a motor vehicle. I have installed and serviced life safety/fire drop doors typically seen in hospitals, pharmacies, labs, shopping centers and other commercial venues. I have placed sectional doors in apartment buildings, single family homes and condominiums. My company has custom built many types of garage enclosures that have had special cosmetic concealed purposes for themed attractions. Working on historic buildings has given me the opportunity to work on sliding barn type doors, hinged parting doors and old carriage style swinging doors. I have removed and replaced the older style, overhead vintage single panel pivoting hinged garage door from commercial and residential locations, and have installed a variety of newer and safer products.
---
The overhead or floor mounted concealed door closer is a very common type of door closer mechanism which is normally unseen and unnoticed. In the majority of installations, these concealed closers are used on aluminum glazed storefront doors, hollow metal stand alone, or structural framed window systems. The concealed door closer design concept was initially engineered as a self-contained product that featured a center pivot allowing a variety of door functions with no exterior arm or visible operating hardware.
---
During the past several years I have been contacted many times regarding door injury claims related to manual door closers. In response to numerous inquires asking if I have published any manual door closer articles similar to the primers I have done on automatic pedestrian doors, I am offering this article for general information to assist attorneys in determining potential issues relating to manual door closer mechanisms.
---
We are all used to opening and closing doors on a daily basis. Unless you encounter a problem with the function of your doors, you probably don't give their operation and component make up much thought. I am continually contacted by attorneys seeking my advice on an injury that took place because of an improperly adjusted or malfunctioning door. In this article, I am simply discussing manually operated doors. Nothing fancy or automatic about them, the kind where you grab a lever, push a plate or bang on a bar to enter or leave a room or building. So, if you want to learn to communicate professionally and simply with your door expert or even your building manager, read on.
---
If you run an active automatic door service company it is not a matter of IF you will be sued . . . it is a matter of WHEN ! What every door service provider can do to proactively protect their business.
---
Automatic doors are generally grouped into two major categories. Low energy and high energy doors. The difference between the two types of doors pertain to the ways that the doorways operate.
---
As the retained expert witness on many overhead door injury and wrongful death cases, some of the injuries I have seen include injured or severed fingers and limbs, bodily trauma, and death. Disabling injuries often lead to involved lawsuits due to the combination of jobsite and employer, landlord and tenant contractual agreements, and property owner liability insurance coverage. Knowing who is responsible for maintenance and inspections of these doorways is essential.
---
In conjunction with many other articles that I have had published pertaining to high energy doors, or what most people think of when they say automatic doors, low energy systems can be equally dangerous and need to be appropriately and properly maintained.
---
Within the past few months, I have been retained as expert witness to evaluate revolving door injuries in over a dozen different locations nationwide. While I usually see an even distribution of sliding door, swinging door, and revolving door injury cases, the revolving door injuries currently seem to be the most prevalent. What is particularly interesting is that no two of my recent cases were created by the same problem.
---
I have been involved in many automatic door cases during the past few years working for both plaintiff and defense. As discussed in one of my previous articles (The Ins and Outs of Automatic Door Operation), automatic doors are highly complex pieces of equipment that require daily attention. Most injuries occur when some component of the automatic door system malfunctions.
---
A basic primer in how they work, what to look for, and how to analyze defects vs. deferred maintenance. Expert door contractor, Michael Panish, takes you through the basics for your case. A basic primer about Automatic Door functions.
---