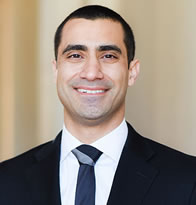 Emin Gharibian, PsyD, is a Clinical Psychologist specializing in Forensic Psychology and Neuropsychology with over 10 years of experience in assessing, treating, and consulting on psychological disorders.
Dr. Gharibian's training and experience have been in psychological and neuropsychological assessments in a variety of clinical settings including private practice, outpatient mental health clinics, psychiatric hospitals, forensic hospitals, and correctional facilities.
He specializes in providing comprehensive psychological and neuropsychological evaluations for a variety of conditions including dementia, Alzheimer's disease, complications from a stroke, traumatic brain injury, concussions, learning disabilities, ADHD, and PTSD in clinical, civil, and criminal cases.
In addition to his private practice, Dr. Gharibian is a staff psychologist and medical staff member at Patton State Hospital, a 1,500-bed maximum-security forensic psychiatric hospital housing judicially committed patients under the following commitment types: Not Guilty by Reason of Insanity (NGRI), Incompetent to Stand Trial, Mentally Disordered Offender, and Mentally Disordered Sex Offender.
As a forensic psychologist at Patton State Hospital, Dr. Gharibian conducts competency evaluations with criminally committed patients with severe mental illness and cognitive deficits. He routinely conducts psychological evaluations to evaluate patients and determine if they are competent to stand trial, writes court reports, and testifies in court as an expert witness.
Dr. Gharibian has been appointed to the Los Angeles Juvenile Court Expert Witness Panel. He is also a member of the National Academy of Neuropsychology and the American Psychology and Law Society.
Areas of Forensic Expertise:
Personal Injury
Independent Medical Evaluations
Worker's Compensation
Fitness for Duty
Police Officer Pre-Employment Evaluations
Immigration Cases
Diminished Capacity
Violence Risk Assessments
Mitigating Factors in Criminal Cases
Civil Capacity (Testamentary Capacity, Undue Influence, Contractual Capacity)
Symptom Validity/ Malingering

Forensic Psychology
Forensic Neuropsychology
Traumatic Brain Injury (TBI)
Concussions
Neurocognitive Impairment from Substance Use
Complications from stroke
Dementia
Post-Traumatic Stress Disorder
Learning Disabilities
ADHD
Sexual Harassment
Discrimination
Civil competency is an area that gets significantly less attention than competency in criminal proceedings. It's definitely not a topic that you are going to see on Law & Order anytime soon. We regularly get questions about civil competency and the mental capacity standards in civil litigation. While the standards for competency civil litigation have some things in common with the standards for competency in criminal proceedings, they have their own unique set of legal standards.
---
Fitness for Duty Evaluations have become more common for public safety positions. Courts throughout the United States have ruled that due to the level of trust and power given law enforcement officers, law enforcement agencies have a responsibility to ensure that officers are fit to perform their duties.
---
Personal injury evaluations have become common place in personal injury and worker's compensation litigation. We get a lot of requests from personal injury attorneys to complete psychological or neuropsychological evaluations for their personal injury cases
---
Post-Traumatic Stress Disorder (PTSD) is one of the most common psychological conditions that's reported by plaintiffs in personal injury cases. Historically, courts didn't entertain the possibility that a plaintiff could experience emotional damages due to an event if there were no physical damages...
---
Traumatic Brain Injury (TBI) is getting more attention than ever before. Media outlets have done a great job at highlighting the impact of TBI and Chronic Traumatic Encephalopathy (CTE) on football players. This extra attention and research are great news for anyone that's experienced a TBI
---