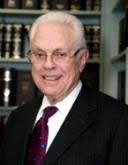 David Ostrove, JD, CPA (Inactive)
, Mr. Ostrove is a certified specialist in
Taxation Law
, certified by the California Board of Legal Specialization of the State Bar of California since 1975. He is also a California Certified Public Accountant since 1957 and a California Lawyer since 1960.
Mr. Ostrove is a Professor of Law and Accounting at Southwestern University School of Law in Los Angeles. He is a Past President of the American Association of Attorneys-Certified Public Accountants and a Fellow of the American College of Forensic Examiners.
Mr. Ostrove has authored numerous books on topics within his field of expertise including, "Advanced Corporate Tax Problems"; "Fiduciary Accounting For Estates And Trusts"; "Forensic Accounting" (2 Volumes); "California Community Property - What The CPA must Know"; "Analyzing Financial Statements After Enron - What The Lawyer Must Know"; and "Accounting and Auditing For Trusts & Estates (DVD)." He is a lecturer for the California CPA Foundation, California Continuing Education Of The Bar (CEB), and the Arizona CPA Society.
David Ostrove has been providing litigation support for 35 years. He has testified in numerous cases in both State and Federal Courts. Mr. Ostrove has been employed by lawyers representing defendants and plaintiffs. He offers expert witness testimony in cases involving
Legal and Accountant Malpractice, Business Valuations, Tax Accounting Issues, and Economic Damages
. He carefully analyzes the facts, law, and accounting principles and presents supportable, timely, clear opinions.
Mr. Ostrove has been given legal authority to act as a Special Master. His services are also available for Mediation and Arbitration.
Areas of Expertise
:
Breach of Fiduciary Duties
Trustee and Executor Negligence
Accounting Malpractice
Legal Malpractice
Probate and Trust Issues
Business Valuation
Economic Damages
Forensic Accounting Fraud
Analysis of Financial Statements
Lost Profits Calculation

Breach of Contract
Tax Matters - Gift, Estate, Income
Reasonable Value of Services
Tax Litigation Services
Bankruptcy
Bad Faith
Insurance - Professional Liability
IRS Matters
Auditor Negligence
Tax Preparer Negligence
View David Ostrove's Consulting Profile
.
David Ostrove
The definitive Fiduciary Accounting Seminar. Designed for CPAs, attorneys, trust officers, estate administrators, attorneys who serve as trustees, executors, administrators, conservators and guardians. Interactive DVD
---