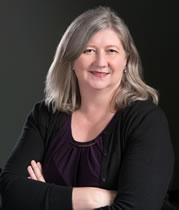 Michelle Macauley is a Geotechnical Engineer and Trenchless Expert that specializes in aspects of new installation and rehabilitation projects for infrastructure replacement, improvement, and capacity enhancement using trenchless technologies. She has spent over 21 years in the Pacific Northwest, with a particular emphasis on geotechnical engineering, trenchless design, and involvement in the water / wastewater industry.
Background Experience: Prior to starting Macauley Trenchless, Ms. Macauley was the National Trenchless Practice Lead for Jacobs Engineering and oversaw multiple trenchless projects across the company. Prior to working at Jacobs, she was a senior geotechnical engineer specializing in trenchless design and construction with GeoEngineers and Staheli Trenchless Consultants.
In addition to her extensive project experience, she has been active in trenchless technologies at a national level. She is currently serving on the Board of Directors for the North American Society for Trenchless Technology (NASTT) and is a regular presenter at NASTT's national trenchless conference (No-Dig). She is an active member of ASCE and serves on the Trenchless Installation of Pipes (TIPs) subcommittee, is helping re-write the Manual of Practice (MoP) on Pipe Ramming, is helping write the new MoP on Direct Pipe, and has consulted on other MoPs.
Litigation Supoprt: Ms. Macauley provides expert witness services to attorneys representing plainitff and defendant. Her services include deposition, mediation, and trial. She is a professional Civil Engineer in Washington, Alaska, California, Oregon, Texas, amd a Licensed Engineering Geologist in Washington.
Areas of Expertise:
Horizontal Directional Drilling
Microtunneling
Pipejacking
Pipe Ramming

Direct Pipe
Guided Auger Boring
Pipe Bursting
Pilot Tube Microtunneling
Education:
M.S., Geological Engineering, University of Alaska, Fairbanks, 1996
B.S., Geological Sciences, University of Washington, 1994