A financial institution can have a comprehensive anti-money laundering program, a staff of experts, and a million-dollar (or more) specialized computer system in place and yet still miss potential problem customers because they failed to collect or use important data. In the end, it all comes down to data-discrete pieces of information that need to be collected, analyzed and presented in meaningful ways-to make a successful anti-money laundering program. No matter what automated or procedural anti-money laundering programs you have in place, the success of the program depends on meaningful data.One of the first steps in creating an effective program, then, is to develop a data plan to understand what data must be captured, how to capture it, how to analyze it, how to report it and how to use it.
At one mid-sized bank where a new automated system was about to be installed, a debate arose over the use of a particular field. The new stand-alone system takes daily downloads from various mainframe systems and analyzes the transaction data to look for out-of-profile activity. It looks for variations in number of transactions and dollar amounts of transactions over a specific time period based on the profiles (expected activity) created by account officers. That's its basic function-to report daily on unexpected activity and flag accounts for further analysis. However, the system also allows for other types of analysis, but this can be done only if the data is available from the systems that feed it. It also depends on whether or not the bank takes the time to learn and use the system in imaginative ways. Let's take a look at one simple data field and what's involved in using a system in creative ways.
The NAICS code, or North American Industry Classification System (formerly known as the Standard Industrial Classification code, or SIC) is used as the index for statistical reporting of all economic activities of the United States, Canada and Mexico. It can also be very useful to financial institutions. If all corporate customers are identified with their NAICS designation, financial institutions can analyze transaction activity in the aggregate as well as on an account-specific basis. Individual accounts could be compared to the averages of all similar accounts, and results could be reported graphically. Since money laundering often lurks behind the mundane, mostly cash businesses, let's use nail salons as an example. NAICS classifies nail salons as follows:
812 Personal and Laundry Services
8121 Personal Care Services
81211 Hair, Nail and Skin Care Services
812111 Barber Shops
812112 Beauty Salons
812113 Nail Salons
If your institution captured the NAICS, you would be able to produce a graph like the one below that might cause you to look more closely at your customer, Lady Luck Nail Salon. Compared to its peers-all the nail salon accounts in your bank-Lady Luck shows an odd lack of monthly deposit fluctuations. Unlike its peers, Lady Luck has no peaks during June and December; its deposits are roughly the same each month. It might be worth flagging this account for further analysis.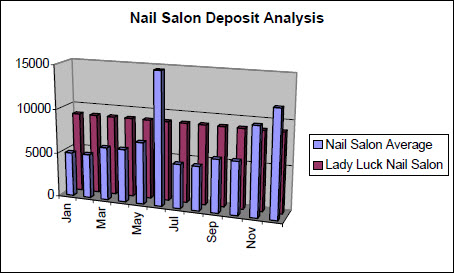 Using the NAICS code allows you to know not only your customer, it also allows you to know your customer's industry trends. Tracking your customer against its industry trends can help you spot any number of interesting possibilities, from an incipient bankruptcy to money laundering to cross-selling new bank products.
Which brings us back to the discrete data field called NAICS and how to make sure it will be used. The mid-sized bank that was installing a stand-alone anti-money laundering system did not capture the NAICS code at account opening. In fact, there were at least three different account-opening systems, which lacked uniformity, and only one allowed for the entry of the NAICS code. In addition, at the back end, the bank had a hodgepodge of legacy systems: the deposit system had a 4-digit field called "SIC code" that wasn't used, and the commercial loans system had a 5-digit field that was used only occasionally (and the codes had not been updated to the new NAICS codes). The anti-money laundering system had room for all six digits of NAICS, but the bank could only use this capability if they could capture the code at account opening and then store it in their deposit and loan systems.1
Important functionality in any system, whether legacy or new, always comes down to discrete data elements. Are the data captured, are the data stored, and are the data used uniformly throughout the enterprise are the questions that must be answered.
1 Worth noting is that it takes six digits to identify nail salons as a discrete business type. Since there are thousands of NAICS codes, it would be quite burdensome for account officers to comb through the entire list . It would probably be accurate enough to use just the 4-digit Personal Care Services code, 8121.
---
Marie G. Kerr specializes in Financial Fraud. She is a Certified Financial Crime Specialist, Certified Anti-Money Laundering Specialist (CAMS), and Project Management Professional (PMP). Ms. Kerr is a financial industry veteran with a deep understanding of how financial institutions work. She has served as a Homeland Security Program Advisor and Fraud Detection Subject Matter Expert (SME) and an IT and AML Advisor for a three-bank merger.

©Copyright - All Rights Reserved
DO NOT REPRODUCE WITHOUT WRITTEN PERMISSION BY AUTHOR.