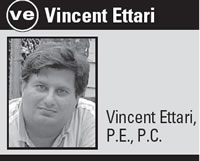 Obtain the Necessary Permits and Do Your Homework Before Closing on a Property You Hope to Develop.
As published in the New York Real Estate Journal, Hudson Valley, March 21-27, 2006

Vincent A. Ettari, P.E., P.C.
Tel: (914) 245-6320
Email: Vincent A. Ettari
Website: www.ettari.com

As you enter into a contract to buy a piece of commercial or industrial property, you should always keep in mind that your new town and county have rules which you must abide by. With regard to the exterior areas of your premises, there are rules concerning your septic system, the maintenance of your building, the addition onto your structure, etc. There are also rules which govern the minimum amount of parking spaces which you must have, what type of pedestrian travel routes must be present on the site, etc. Finally, to develop a piece of commercial property, you will need approval from the local Planning Board. If you are in the New York City Watershed, you will also need the approval of that agency. These rules can come back to haunt you if you do not do your homework. By way of an example, I have had clients who purchased commercial properties without first obtaining a Site Plan Approval. Unfortunately, for some of them, the Planning Board was not willing to give them the type of development which they wanted, making the venture very unprofitable.

The local municipalities and the New York State Public Health Code, which is administered by the County Health Departments, require that no commercial land be developed without approval from the Planning Board and the Health Department. If you want to expand an existing facility, you will definitely require the approval of the Planning Board and, more times than not, require the approval of the Health Department. If wetlands are present on the site, you will need a separate wetland permit / approval from the local Municipal Conservation Board (in some townships, this board is one and the same with the Planning Board). Moreover, if your site does not comply with the zoning requirements of the area, Zoning Variances will also be needed.

Be cautious, especially with regard to the septic needs of your contemplated development. Septic fields cover a large area. Whether you are contemplating an initial development of a site, or an addition to an existing building, you must have enough area to accommodate the septic fields which will be needed for the building. Moreover, the Health Department will require that you have enough available area for 100% expansion. That is, not only must your property be large enough to accommodate the septic fields needed for you building, but you must have enough area to accommodate a second septic system, should your primary system fail and you need to construct a new system sometime in the future.

As a licensed professional engineer, I have seen several people buy small sites in the hopes of developing them, only to be turned down by the County Health Department due to their property being too small to accommodate the septic fields which would be required for the contemplated development.

These rules also apply to Use and Occupancy Conversions. One of my clients purchased a small building with the hope of converting it into a residential dwelling. However, the increased flow from such a use was such that he did not have enough area to accommodate the septic system which would have been needed for the contemplated residential use. As a result, his proposal was turned down and he was, shall we say, stuck with the building.

So, in choosing a commercial site, you best not close on the property until you have a Planning Board approval and a septic construction permit allowing your proposed use, along with any wetlands permits or zoning variances which will be required for your proposal. Do not rely on verbal assurances that you can develop a vacant property or increase the size of an existing commercial building. Only a fully issued Planning Board approval and septic construction permit will guarantee that your vision for the site can be realized.