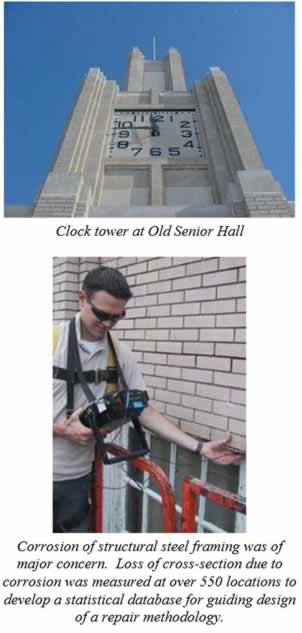 PROJECT
Old Senior HAll
Hershey, Pennsylvania
CLIENT
The Ray Group
Lancaster, Pennsylvania
PROJECT DESCRIPTION
Constructed in 1934, the "Old Senior Hall" building was built with a structural steel frame, concrete and gypsteel floors and roof, and a reinforced concrete foundation. The exterior walls were built using a brick masonry façade over a clay tile backup with limestone sills, coping, and accents. Active corrosion of main structural members was discovered in the late 1990's, and a plan was developed to renovate the building to address structural concerns. Atkinson - Noland conducted a full exterior condition survey, including use of nondestructive tests to identify the extent of steel corrosion, evaluate masonry performance, and identify potential repair items. Results of this study were used to plan repairs and any necessary strengthening.
SERVICES PROVIDED BY ATKINSON-NOLAND
Condition survey to identify damage conditions throughout the exterior and interior
In situ tests to investigate steel corrosion and wall water penetration resistance
Evaluation of as-built conditions using nondestructive investigations and subsurface probes
Laboratory testing of steel and masonry materials
Conceptual repair recommendations
---
Atkinson-Noland & Associates, Inc. (ANA) has provided structural engineering services for federal, state, and private organizations since its founding in 1975. The unique organization of the firm strives to balance a commitment to innovative research and development goals with direct application to problems in the field. The experience and education of their professional and support staff provides a strong capability for handling difficult and challenging material and structural engineering problems. Through ongoing research and practice, the firm has established itself as one of the foremost international authorities on both historic and modern masonry structural systems.

©Copyright - All Rights Reserved
DO NOT REPRODUCE WITHOUT WRITTEN PERMISSION BY AUTHOR.