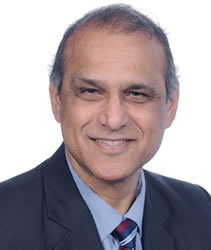 Prof. Makarand (Mark) Hastak, PhD, PE, CCP
, is the Professor and Head of the Division of
Construction Engineering and Management
as well as Professor of Civil Engineering at Purdue University.
Dr. Hastak has been involved with the construction industry for the past 30 years providing his expertise through consulting, research, teaching, and service to the industry. He is a world renowned expert in the area of construction engineering and management including process improvement, disaster risk reduction, resilience and capacity building, infrastructure management, intelligent planning for the built environment, cost control, project management decision-making, risk management, and strategic planning. Dr. Hastak is a Professional Engineer (PE) and a Certified Cost Professional (CCP).
Prof. Hastak has worked on numerous projects sponsored by the Construction Industry Institute (CII), NSF, State DOTs, and City Agencies. He has authored over 200 publications on process improvement, project controls, capital rehabilitation planning, strategic planning, and decision-making. He has co-authored a widely used book on Infrastructure Planning, Engineering, and Economics (McGraw-Hill 2006 and 2015). Dr. Hastak served on the Education Board of the Association for Advancement of Cost Engineering (2004-2016). He was Editor for two AACE books, the Skills and Knowledge of Cost Engineering (6th Ed. 2015) and the CCP Certification Study Guide (2nd Ed. 2016). He was also the Editor-in-Chief of the ASCE Journal of Management in Engineering (2009-2016).
Dr. Hastak has given over 35 keynotes and invited lectures around the world. As a prominent educator, he also engages in developing training material and workshops as well as regularly teaching professional courses for the A/E/C industry. His services include consultation, on-site investigation, data collection, assessment, and reporting.
Dr. Hastak Lectures at the 2015 International Conference on Building Resilience
Litigation Support
- Dr. Hastak offers expert witness services to attorneys representing both plaintiff and defendant. He served as an Expert Witness on two cases in 2017 and was deposed on one. His services include case reviews, written reports, depositions, arbitrations, and trial testimony as needed.
Areas of Expertise
:
Construction Engineering
Construction Management
Cost Overruns
Schedule Delays
Construction Safety
Modular Construction
Patent Infringement

Factory Built Construction
Infrastructure Planning
Data Center Construction
Project Risk Management
Disaster Recovery / Disaster Mitigation
Trade Secret Misappropriation
Contracts & Warranties
View Dr. Hastak's Consulting Profile
.
Makarand Hastak, PhD, PE, CCP
Thoroughly revised to address sustainability and the latest codes and regulations, Infrastructure Planning, Engineering and Economics, Second Edition, describes the full range of skills necessary to plan, implement, upgrade, and maintain infrastructure projects in the public sector.
---
Makarand Hastak, PhD, PE, CCP
This edition is designed as a companion workbook to the Skills and Knowledge of Cost Engineering, 6th Edition (S&K 6). In conjunction with S&K 6, this study guide will assist individuals in their preparation for the CCP Certification examination as well as develop the general knowledge a cost engineering professional is expected to have. This study guide offers insight into the key topics found in each chapter of S&K 6 and provides practice questions and exercises to better develop knowledge in individual areas.
---
Makarand Hastak, PhD, PE, CCP
This Education Board publication provides comprehensive and in-depth information on a wide range of cost engineering subjects and will prove to be a valuable resource to any individual seeking professional growth or pursuing an AACE International certification. This publication offers six sections comprising 34 chapters of content on topics such as cost estimating, project planning, value engineering, and strategic asset management, to name a few.
---