February 1998
WORKPLACE VIOLENCE
by
Dana Picore, Ph.D., MFCC, Professional Speaker & Consultant
WOW!
Did you know that approximately
1 Million
people a year are affected by violence in the workplace.
4 Billion dollars
are lost due to this growing issue in the United States.
The days of a good old fashion fist fight or a verbal argument are gone. What's the new and most popular defense for an explosive encounter? Guns! 650,000 guns are purchased each year, 100,000 guns are stolen each year and 4,000 Californians are shot each month. The statistics are staggering, the violence has increased and we have a lot of people running around with very little impulse control and anger management tools.
It's time to stop and scream to the world, "We Tolerate Zero Violence."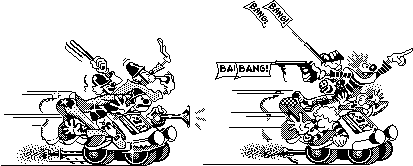 Corporations have to protect their employees from injuries and themselves from liability. This is done through preventative training to management and the employees of various employment settings.
More homicides are committed by people we know verses from strangers. We used to look the other way when we knew of violence in the home. We ignored the bruises and the isolation of the couple. Domestic Violence is now taken as a serious issue with strict legal enforcement to protect the victims. The violence from a personal matter can very likely enter the workforce bringing terror to those within the company. Workplace violence is now an issue to take as seriously as other forms of VIOLENT victimization.
Motivations of workplace attackers as described by victims:
26% irrational behavior
19% dissatisfied with service
15% interpersonal conflict
12% upset at being disciplined
10% criminal behavior
8% personal problems
2% firing or layoff
1% prejudice
7% unknown
Based on statistics from Northwestern National Life Insurance; National Institute for Occupational Safety and Health.
The CORPORATE world is beginning to open its eyes and take note of the high cost of just one violent incident. Victims are in need of medical and psychological services, and the company may be open for liability. There may be damage to property which will contribute to increased insurance rates. You may need to hire additional security and the list goes on and on and on.
Zero Tolerance, it has to be the policy and part of a mission statement in order to help protect all involved and maintain a high level of productivity.
What Can Be Done?
Teach employees to seek guidance from their own internal resources and listen to their "gut." This powerful tool is called intuition and means to guard and to protect. We use intuition on a daily basis when it comes to certain aspects of our lives. For example, you are driving to work and out of the corner of your eye you see a white car beginning to swerve ever so slightly. You break lightly and allow more room between you and the driver of the car while protecting yourself from a possible accident. It was your gut and your observation skills that kept you on your toes and ready to plunge into action if needed.
The same principle applies to an escalating encounter with an angry person who may explode into rage. First, your gut tells you something is not right, however you can't quite put your finger on it. Second, you begin to see the person pacing back and forth with a nervous edge. Do you ignore it or address the issue of a potentially volatile person directly in front of you?
You must deal with the hostility and learn to re-direct it so it does not explode into a raging rapid of water with a stronghold that is tightening its grip around you. Don't fight the rage. Begin to calm yourself first and maintain a level of empathy towards the angry person. It is probably not you that he/she is angry at. Do not become defensive and do not react to the anger, instead defuse the encounter by using various distraction techniques that can be learned.