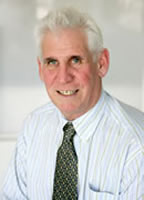 Dr. Robert H. Odell, Jr., MD, PhD
, owner and Medical Director of Neuropathy and Pain Centers of America in Las Vegas, NV, is a Stanford and UCLA trained
Anesthesiologist and Pain Management Physician
. As a fellow of the Medical Scientist Training Program, he received his Ph.D. in Biomedical Engineering from Stanford University in 1974 and his MD degree from Stanford in 1976. He completed his residency in anesthesiology at UCLA, and served as chief resident at Harbor/UCLA Medical Center in 1982. He is a diplomat of the American Board of Anesthesiology (1983), American Academy of Pain Management (2001) and the American Board of Pain Medicine (2007) and a Fellow of Interventional Pain Practice of the World Institute of Pain (2008).
Dr. Odell has extensive experience with a wide variety of non-interventional and interventional
Acute and Chronic Pain Management
techniques, including Vertebral Axial Decompression and Electroanalgesia. Treatment utilizes the Combined Electrochemical Block (CEB), which combines the clinical benefits of these Electronic Signal Treatment (EST) devices with interventional pain management techniques to produce dramatic patient outcomes in a wide variety of
Refractory Neuropathic Pain States
, including
Low Back Pain, Diabetic Neuropathy, Idiopathic Neuropathy, Failed Spine Fusion Syndrome and Carpal Tunnel Syndrome
.
Over the last several years, Dr. Odell has been working with some advanced electromedical devices which produce salutary effects for some of the most refractory pain management challenges. He is the first author on three significant papers in the
Electromedicine and Pain Management
literature. The first,
"Electroanalgesic Nerve Block: Theory and Case Reports"
appeared in
Practical Pain Management
in 2006. The cornerstone of treatment at New Vision is the use of local anesthesia along with the Electroanalgesia block. This technique is outlined in Dr. Odell 's third paper, "New Device Combines Electrical Currents and Local Anesthetic for Pain Management,"
Practical Pain Management
(2011). Dr. Odell has also been invited to deliver presentations in his field of expertise throughout the United States.
View Expert Witness Profile
.
Combined electrochemical nerve block reduced pain in 80% of patients with neuropathies and 50% of patients with intractable back pain.
---
Electroanalgesic medical treatment involves the use of computer-modulated electronic signals to imitate, exhaust or block the function of somatic or sympathetic nerve fibers.
---