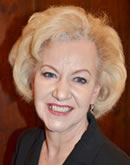 Catherine Adams Hutt, PhD, RD, CFS
, has senior public and private experience as a Chief Science & Regulatory Officer in the
Food Safety Industry
. She is a Registered Dietitian and Certified Food Scientist.
With experience in the public and private sectors, Dr. Adams Hutt provides advice and guidance on a wide range of topics, including regulatory compliance, food safety, quality systems management, supply chain, health and wellness, business strategy, product development, and software solutions for management of quality and product development processes.
Dr. Adams Hutt was formerly Chief Quality, Food Safety, and Nutrition Officer for McDonald's Corporation and led Supplier and Restaurant Food Safety teams for YUM! Brands. She was Chief Quality Officer for Coors Brewing Company, led the North America Quality team at H.J. Heinz, and developed next generation Quality programs for the Campbell Soup Company. Dr. Adams Hutt was Assistant Administrator for the US Department of Agriculture's Food Safety and Inspection Service (FSIS) where she led the development of HACCP as a regulatory tool. She has been an active participant in international programs, and led the U.S Delegation for the Codex Food Hygiene Committee.
Litigation Support
- Catherine Adams Hutt has high-level training and senior experience in a variety of food related fields, including food manufacturing, food service, food regulations, and nutrition. Her diverse background makes her ideally suited for challenging cases where it is important or helpful to be able to integrate information from a number of different disciplines. Her professional experience is truly unique and her credentials make her unimpeachable. Most of Dr. Adams Hutt's cases are settled before going to trial on the strength of her expert opinion. She has experience with both deposition and trial, understanding the art of the exercise, and works to deliver the optimal results for her clients - plaintiff or defendant.
Areas of Expertise
:
Food Safety
Food Manufacturing
Nutrition
Foodborne Illness
Food Fraud
Food Forensics

Food Poisoning
Food Adulteration
Dietary Supplements
Food Labeling
Quality Management
Health Claims
Texas Office
4568 Elm Bottom Circle
Aubrey, TX 76227
Virginia Office
124 South Fairfax
Alexandria, VA 22314
View Dr. Adams Hutt's Consulting Profile
.