*Enter State Names or Abbreviations. Use space to separate multiple states e.g. CA Washington NY
Memory - Recall
Expert Witnesses

:

1
Select Experts. Start Inqury.
Psychology Expert Michael Perrotti
Michael Perrotti
Ph. D
3 Pointe Drive
Suite 303
Brea CA 92821
USA
phone: 714-528-0100
fax: 714-528-2575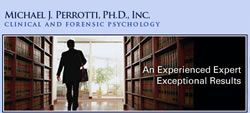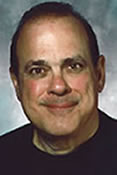 Dr. Michael J. Perrotti, Ph.D., a member of the National Academy of Neuropsychology, specializes in Clinical and Forensic Psychology. He has over 30 years of experience with consumers, courts, and counsel including civil, prosecution, defense counsel, family court and the US Government. Dr. Perrotti contributes to the profession as an Expert Consultant for the State of California Board of Psychology, and the California Board of Behavioral Science Examiners and is certified by LA County System Court as an Expert Witness in Neuropsychology, eyewitness ID and false confession.
Dr. Perrotti was an Assistant Professor of Psychiatry & Behavioral Science at the Keck School of Medicine, USC (2005-2006), and conducted complex neuropsychological evaluations in USC. Dr. Perrotti possesses specialized training and has clinical and research interns. His practice is an approved internship site at UCLA. He also has expertise in the area of Assessment of Sexual Deviation and Evaluation of Child Sexual Abuse Allegations. His training, experience, and use of the Abel Assessment of Sexual Interest Computerized Test from the Abel Center in Atlanta, Georgia, enables him to add a state-of-the-art sophisticated tool for the evaluation of sexual offending. Dr. Perrotti has served as an expert witness for plaintiff and defense in personal injury and employment and workplace matters. Dr. Perrotti was awarded the Volunteer Services Award from the President's Volunteer Council as Service and Civic Participation, the White House. Dr. Perrotti is a member of the Orange County Sheriff's Reserve, Professional Services Division.
Services Include:
Neuropsycholgical Assessment
Sanity / Competency to Stand Trial Assessment
Police Misconduct
Suggestibility and False Confession
Crime Scene Investigation in Report Formulation
Sexual Predator Determination
Effects of Psychotropic Medications on Confession
Expert Neuropsychologist in Sexual Assault Trial
Expert in Bonding Studies and False Confessions
PTSD (acute and complex) in General, Law Enforcement, and Iraq War Veterans
Panic Disorders and Phobias
Custody Evaluation
Severe Trauma in Children, Adolescents, and Adults
Anxiety Disorders take many forms: Panic Disorder, Separation Anxiety Disorder, Social Anxiety Disorder (social phobia), Generalized Anxiety Disorder, Specific Phobia, Obsessive Compulsive Disorder, Body Dysmorphic Disorder, Hoarding Disorder, Trichotillomania (hair pulling disorder), Excoriation (skin-picking disorder)
---
The overcategorization of individuals in the category of sex offenders with need for monitoring and GPS tracking has resulted in personnel being overwhelmed in the system. It is incumbent upon psychological experts to educate the courts that sex offenders are not all pedophiles, but a complex mix of many other dynamic issues.
---
This writer frequently sees "experts"for the prosecution equating CSAAS with a defendant alleged to have committed child sexual abuse. In particular, delayed disclosure is equated with validity of child sexual abuse claims.
---
One is frequently presented with an individual who presents for evaluation as a result of traumatic events such as sexual harassment, sexual abuse in the school and workplace, electrical injury, and Traumatic Brain Injury.
---
Voir dire of experts as to credentials and experience needs to be viewed as only one aspect of the vetting process of forensic work product. Experts, as much as anyone else, are prone to conscious and unconscious sources of bias. This rather significant problem area in forensic reports is discussed by (Stuld and Simon, 2013) under the rubric of heuristic and cognitive biases. Heuristics addresses how people arrive at decisions or reach conclusions in complex family law, civil, or criminal matters. Errors in this area are of concern when experts focus or overly attend to only a part of the problem or afford overemphasis to certain factors and minimize the contribution of other factors. One can also see this problem in medicine. A patient may complain of pain in a particular body region whereas the provider focuses only another medical issue.
---
Defense counsel is frequently presented with the problem of a client protesting their innocence and accusers, perhaps multiple accusers, leveling allegations of sexual assault against the client. Of course, with defendants facing severe legal consequences, complaints need to be evaluated as to their reliability and validity.
---
Proper interviewing Protocols are critical to maximize information-gathering as well as accuracy of information in criminal and National Security investigations. Police procedures incorrectly assume that promoting physical close proximity with an interviewer (eg, Inbau, Reid, Buckley, & Jane, 2013) will induce subjects to become more forthcoming.
---
Unlike in Alzheimer's Disease, neurofibrillary tangles in athletes with CTE tend to accumulate perivascularly within the superficial neocortical layers. It is interesting to note that TAU pathology in CTE is partially and extensively distributed, possible related to multi-directional mechanical force from physical trauma (McKee et al, 2009; Neuropath Exp Neurol 68, 709-35.) It is theorized that accumulation of hyperphosphor is related to a protein that is thought to result in development of CTE and associated neurobehavioral disturbances.
---
Just this month, an article appeared in the Journal of Neuropsychology entitled "Early Onset Marijuana Use is Associated with Learning Inefficiencies." Young adults reporting early onset marijuana use have learning weaknesses, which accounted for the association between early onset marijuana use and delayed recall.
---
The recent editors of Myers on Evidence of Interpersonal Violence (Myers 2016) notes that the most well-known of psychological instruments to assess suggestibility is the Gudjohnson Suggestibility Scales (GSS). The GSS is utilized by psychologists to evaluate whether defendant's confessions were voluntary. The author notes that it is doubtful that these instruments are sufficiently reliable for use in legal proceedings. It is noted that in Shanklin, 379 111 Dec 211 the trial judge did not err in subjecting the GSS to a Frye Henry.
---
Does the availability of weapons lead to violence? Citizens certainly have a right to bear arms and defend themselves. However, what does the science say about this area?
---
The public understanding of TBI is so poor that it is officially referred to by the US National Center for Injury Prevention and Control as "the silent epidemic." In the acute phase, the usual radiological examinations are not sensitive to TBI and diffuse axonal injury (DAI). There is a significant amount of false negatives with CT scans administered in the ER.
---
The author recently had a chapter accepted for publication on Methodology for Conducting Bonding Studies in Child Custody Evaluations (CCE). This chapter was written in response to the requests of many psychologists over the years who wanted guidance in procedures for conducting bonding studies. Many psychologists conduct bonding studies with cursory observations of parent and child. There is no application of an objective scoring system or any methods that can be replicated by other CCE Evaluators. This is essential in science.
---
This week marked the enshrinement of Junior Seau in the NFL Hall of Fame. Junior was an outstanding linebacker for USC who went onto great accomplishments in the NFL. However, all was not well. The effects of domestic violence, substance abuse and gambling difficulties; as reported on ESPN's Outside the Lines, took the toll on Junior. He repeatedly complained to a friend who was a fellow player and suffered from headaches, how he too, suffered for years from headaches. ESPN noted that he was reported to have been diagnosed with chronic traumatic encephalopathy, a neuro-degenerative disease that can lead to dementia, memory loss and depression. Gina Seau reported that Junior's disease was associated with head-to-head collisions caused from 20 years of playing in the NFL. This scenario affected his ability to think logically.
---
To determine if there are any changes in self-concept, locus of control and frequency of aggressive behaviors in juvenile offenders. As a function of receiving Direct Decision Therapy (DDT). Sub-objectives are whether DDT will effect positive change in self-concept, higher interval control and significantly fewer aggressive behaviors.
---
Recently the examination of the brain of Junior Seau revealed the diagnosis of chronic traumatic encephalopathy, or CTE. The recent diagnosis of chronic traumatic encephalopathy (CTE) after examination of the brain of Junior Seau underlines the seriousness not only of repetitive brain trauma in professional sports and in military populations but also raises continuing serious questions about the management and prevention of CTE in athletic sports.
---
Prosecutors and law enforcement are frequently confronted with situations wherein children have been traumatized and/or injured. These injuries have resulted in disabilities which affect the child's ability to understand questions as well as express answers to questions.
---
It is a matter of utmost importance that an even playing field be created in adversarial proceedings. What is conducive to this is use of forensic guidelines as standards by all experts involved in a case.
---
There has been great voiced concern by practitioners and researchers over overcategorization and overgeneralization of individuals accused of sexual offending being lumped into one category of "sexual predators." Whereas there certainly is a need for protection of children from predators in our society, the pendulum has swung too far to the extreme.
---
Recently the Oregon Supreme Court, in a unanimous decision, upended how eyewitness identification is to be used in criminal trials. The article in The New York Times (2012) indicated that misidentification is the country's leading cause of wrongful conviction.
---
The issue of children's memory is contentious. Some individuals assert that if a child says something, therefore it must be true. However, the research shows that this certainly is not the case. Human memory is not an exact recording of an event(s).
---
All too often one sees survivors of abuse all categorized under the rubric of posttraumatic stress disorder (PTSD). As Herman, in a paper on complex PTSD, notes (1992), PTSD formulation fails to capture the sequelae, acuity, and severity of prolonged, repeated trauma.
---
Freeman et al. (2005) noted that it was in the mid-'80s when it was first noted that mild traumatic brain injury (MTBI) could result in serious and lasting consequences. Numerous studies with human and animal subjects have demonstrated the evidence of neurocognitive defects and delayed return to work in MTBI patients with postconcussive syndrome.
---
The recent death by suicide of Junior Seau of the San Diego Chargers is only one of many suicides in the NFL. O.J. Murdock, a 25-year-old wide receiver for the Tennessee Titans, died from a self-inflicted gunshot wound.
---
Recent cases have come to the fore concerning faulty eyewitness ID raising increasing and continuing concern about the error rate of eyewitness ID. This concern dates all the way back to Janet Reno, Attorney General, who appointed a committee of mentalhealth professionals and attorney to evaluate the area of eyewitness ID.
---
The United States is seeing more and more young men returning from Afghanistan and Iraq with horrendous results in terms of family integration, societal integration, and domestic violence. Some of these individuals, according to Cernak, are found on the battlefield dead with no marks whatsoever on them.
---
The problem of false confession is alarming. Just after publication by Barry Scheck in his text on and his writings on DNA and establishment of the Innocence Project, he found 77 wrongful convictions and individuals wrongfully imprisoned in California.
---
Police departments across the United States are routinely questioning young children concerning child sexual abuse allegations. Frequently the police are untrained in the correct techniques to utilize for investigating interview of the children.
---