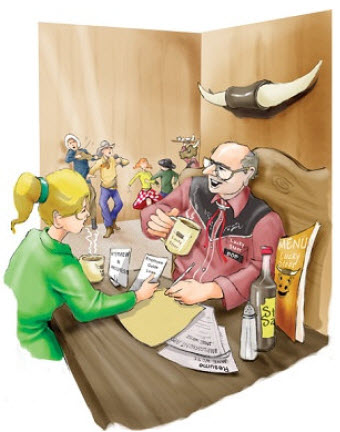 You can't be too selective in picking your starting lineup. On the other hand, it is a time-consuming process. You need to be careful. You need to be efficient. It's a tricky dance. And to find a starting team of top performers you need to meet a lot of prospects.
A lot. A casual Mexican-theme restaurant with which I've conducted business recently interviewed more than 200 people during a fiveweek selection period to fill the 70 slots required for this 200-seat, seven-days-a-week lunch-anddinner concept. This is not the exception.
Very few startup restaurateurs have to be convinced that poor hiring decisions in the opening phase can trip up the business in this critical phase; however, unless you've worked for a large corporation with a sophisticated human resources (HR) department, it is unlikely that you've been trained in the mechanics of interviewing staff. A well-planned and methodical approach to the interview process can help you find the best candidates and sidestep costly errors, including asking questions that might suggest discriminatory hiring practices or not getting enough information to size up the attitude and skills of a candidate. We all have preconceived notions of what we consider the ideal employee. A pattern interview process helps us stay on track. We get past superficialities, and home in on the qualities that we seek in our staff.
Although HR pros may argue the fine points of the interview process, in the context of interviewing candidates for restaurant positions, I have found that the most successful opening teams have been selected by a "two interview" process. It can be carried out effectively and efficiently with even basic forms and procedures, which I will discuss. Best of all, like a two-step dance, it's relatively simple.
Pre-interview Preparation
First, assess your needs. To properly assess what your restaurant opening requires, it is necessary to complete preliminary schedules for each department. "Master schedules" are the best guides to use as hiring tools, as they paint a picture of the number of slots needing to be filled and help us make necessary staff-related decisions before the selection process begins. (See "What It Looks Like: Master Schedule" below.)
For example, completing your master schedule for the front-of-the-house departments, you will be able to decide on the amount of host staff required to properly greet, manage the wait list and seat the guests. This may be a minimum of two and as many as five depending upon the shift.
Casual restaurants allow five to six table stations per server and more formal concepts allow three to four. One busser may be needed for every four servers, and a minimum of two bartenders may be needed for bars that provide service to the wait staff as well as bar patrons. Using these minimums as guidelines you can complete a weekly master schedule and see the amount of shifts (slots) needing to be filled. The back-of-the-house department should be separated by line position (grill-broil, sauté, fry, etc.), prep and dish staff to correctly total the amount of shifts required.
By multiplying the average hourly wage you anticipate paying for each position by the hours required on your master schedule, you will be able to check your labor cost and compare it with your operating budget before any staff member has been selected.
I recommend using the master schedule as a guide throughout the selection process, penciling in names of hired staff members into their scheduled slots to better know where you stand during this crucial part of your opening process.
Develop all required materials in advance. With master schedules completed, it is time to check and see that critical materials needed for the interview process have been prepared, reviewed, and understood by all managers scheduled to do the staff interviewing. Mistakes are made and staff misunderstandings occur when materials are not available and/or interpreted differently by management. Materials you should have available during the staff interview include:
Employment application
Job description
General orientation manual (employee handbook)
Menu(s)
Uniform
Interview evaluation
Schedule request form
The First Interview: Establish an Open Climate
---
For over 15 years A'LaCarte Foodservice Consulting Group (A'LaCarte) has been providing operations and growth related consulting to Restaurants, Hotels, Convention Centers, Casinos, Country Clubs, Stadiums and Airports. A'LaCarte has successfully completed projects for start-ups, independent restaurant companies and large multi-unit chains. They have consulted on concept development operations, and growth related matters with a variety of chains (franchisors and franchisees) and independent operators.

©Copyright - All Rights Reserved
DO NOT REPRODUCE WITHOUT WRITTEN PERMISSION BY AUTHOR.