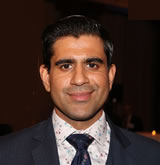 Sameer Somal is the Co-Founder & Chief Financial Officer at Blue Ocean Global Wealth and Blue Ocean Global Technology. Sameer is a CFA Charterholder, a CFP® professional, and a Chartered Alternative Investment AnalystSM. In May of 2017 he was named an Iconic Leader Creating a Better World for All by the All Ladies League & Women Economic Forum. Sameer is an internationally recognized speaker, educator and entrepreneur.
2016 - 2018 speaking engagements include, but are not limited to:
• The US State Department's Foreign Service Institute (McLean, VA)
• Women Economic Forum (Delhi, India)
• Dimensional Fund Advisors Conference (Chicago, IL)
• Mick Law Conference (Scottsdale, AZ)
• Legal Week 2018 (New York, NY)
• Betta Gamma Sigma Leadership Conference (Chicago, IL)
• Scotiabank Executive Strategy Retreat (Grand Cayman, Cayman Islands)
• The LavaCon Content Strategy Conference (Las Vegas, NV)
• Global Digital Marketing Summit
• The Securities & Exchange Board of India (Mumbai, India)
• Chartered Alternative Investment Analyst (CAIA) Association (Mumbai, India)
• National Institute of Securities Markets (NISM), CFAI, & City of London (Mumbai, India)
• CFA Society Texas
Sameer is passionate about helping clients improve profitability, build brand equity, and adapt to the Digital Revolution. He oversees technology planning, consulting engagements, and key client relationships.
• Blue Ocean Global Technology serves clients and agency partners in 40+ countries.
• We have completed 3000+ web development, portal, eCommerce, and software projects over the past 15 years.
• We are Online Reputation (ORM) Experts, which includes building a positive reputation and mitigating a negative reputation on google for an organization or person.
Blue Ocean Global Technology proactively builds stellar reputations. We create and promote digital assets that accelerate the growth of brand equity. We provide comprehensive reputation management services, which often includes search engine optimization (SEO), social media marketing (SMM), and web development. When an individual or organization faces crisis, legal or PR issues that reach the internet, we specialize in mitigating the impact of the defamatory content and repairing the negative reputation.
Blue Ocean Global Technology serves both clients directly and an exclusive group of PR, Law, Digital Marketing, and Web-Development agency partners.
Litigation Support - Sameer is a subject matter expert witness and frequent speaker on online reputation management, search engine optimization, digital marketing and the digital revolution. He helps clients build, monitor and repair their online reputation. Sameer also provide testimony in courts for client cases and expert consulting specific to the digital footprint of individuals, companies and governments. Blue Ocean Global Technology has completed over 3000+ SEO & Web Development projects. We serve clients globally.
Areas of Expertise - Search Engine Optimization • Online Reputation Management • Internet Defamation • Internet Consulting • Digital Marketing • Website Development • Online Review Management • Digital Reputation Repair