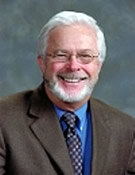 Dr. Richard Stieg, MD, MHS
is board certified in
Neurology, Pain Medicine, and Addiction Medicine
. He is a founding member and tenth President of the American Academy of Pain Medicine. He has also served the American Pain Society in various board capacities and as co-founder of their journal,
Pain Forum
.
Dr. Stieg is a founding member of the board of directors and Editor-in-Chief of the website of the National Pain Foundation and serves the board of directors of the Oakley Foundation and the medical advisory board of the American Pain Foundation. He has served the world of Pain Medicine in many capacities, including Associate Professorships at the University of Pittsburgh and the University of Colorado Health Sciences Center and editorial positions on several professional journals, including the
Clinical Journal of Pain, Pain Forum, Pain Medicine and Disability
. Dr. Stieg is the author of many journal articles and book chapters and continues an active practice in pain and addiction medicine in Denver Colorado.
Dr. Richard Stieg offers litigation support for claimants and defendants in cases involving chronic pain, related drug addiction, or related disability issues. He has over 40 years of clinical, administrative and academic experience. In the past 25 years, Dr. Stieg has performed over 1,000 IMEs and trained others at such venues as the AADEP and AAP. He has been deposed over 100 times and testified approximately 12 times.
Areas of Expertise
:
Chronic Pain
Drug Addiction
Short Term Disability
Long Term Disability
Opioid Abuse / Overdose
Drug Overdose / Abuse
Wrongful Death

Complex Regional Pain Syndrome(CRPS)
Fibromyalgia
Post Traumatic Headache
Malingering
Chronic Pain Disorder
Traumatic Brain Injury
Workers' Compensation
View Dr. Richard Stieg's Consulting Profile
.
A panel of experts in pain medicine and public policy convened to examine root causes and risk factors for opioid-related poisoning deaths and to propose recommendations to reduce death rates.
---
There appears to be little question that pain represents a significant American public health problem. A recent Gallup poll reported that an estimated 26 million Americans suffer with severe pain, with half of those reporting daily occurrence. Six in ten Americans with severe or moderate pain have lived with the condition for at least seven months. More than half report poor pain control despite having consulted with physicians. Interestingly, four in five Americans believe that aches and pains are a natural part of getting older, and 64% will see a doctor only when they cannot stand the pain any longer.
---
Teaching in the field of pain medicine seems to be dominated by emphasis on pain as a symptom. This is a natural response to the scientism that dominates our medical training, thinking and practice. The topic of pain and spirituality affords us the opportunity to re-focus our attention on the multidimensional aspects of the pain experience, as many have so eloquently done before. (1,2,3) We introduce our topic by posing several questions:
---
There is evidence that all types of pain are inadequately managed in the United States and that this was true long before the advent of managed care.37, 39, 42 This situation is likely due to a number of social factors, including the following:
---