Ferrantello Group, PC is a multi-faceted, full service Long Island Land Surveying Company with engineering consulting services available as needed for all types of projects. Ferrantello Group, P.C. has provided quality service and technical excellence at price points designed to meet budgets in any economy. Awarded the Point of Beginning Top 100 Surveying Firms in United States, Ferrantello Group, PC has built solid relationships and an extensive community network throughout the years with many municipality and county governments throughout New York. Their service extends to land owners, lenders, title companies, real estate investment firms, commercial brokers, architects, engineers, contractors and developers. These relationships help provide our clients with the additional project resources that may be required for project submittal. Consulting Services:
Land Surveying and Mapping
3D Scanning and Modeling
Construction and High Rise Layout

Flood Mapping and FEMA Certification
Site Planning / Subdivision Mapping
Litigation Support / Expert Witness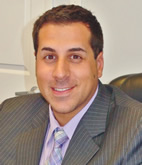 Frank S. Ferrantello, PLS, is a New York State Licensed Land Surveyor with over 20 years of experience in Surveying, Civil Engineering, and Land Use Planning. Both his field and office Work experience have dealt with a wide range of projects and sites including residential single, multifamily, high rise municipal, utility, private and public, commercial, and industrial. Prior to and post college, Mr. Ferrantello worked for the firm of John P. Ferrantello PC from 1998 to 2010 and MJM engineering from 2008 to 2016. His duties consisted of performing office and field surveying, drafting, research, computations, boundary analysis, solutions, investigations and determinations. Mr. Ferrantello also has extensive experience in Site Planning and Subdivision Consulting, examining title records, deeds and other recorded documents such as ingress and egress, pedestrian easements, right of ways, air and development rights, vista easements, bridle paths, beach, bathing and mooring rights, covenants and restrictions, real property, zoning, and other land use principles.
Property owners have rights and protecting those rights was a central part of the Founding Fathers' goals. Nevertheless, there are certain circumstances in which owners can have their property taken from them. The process through which private property is legally dispossessed by the government is known as condemnation. Property owners are entitled to fair compensation and have the opportunity to offer their own valuation information in condemnation proceedings. There are various factors to consider for accurate property valuation: size, zoning, structures, use, accessibility, adjacent properties, leases, etc. An essential part of due diligence is determining precisely what the property comprises.
---
Retention of a professional land surveyor prior to purchasing land, planning, developing or designing improvements is vital to protect the investment. In New York, only a survey made by a licensed land surveyor can define the size and location of property purchases, and most importantly, accurately convey what is really happening on the property, such as easements, situations with adverse possession, or indentifying structures in relation to existing certificates of occupancy.
---
Over the centuries, surveys have been prepared for many reasons. The oldest types of surveys in recorded history are boundary surveys - these are essential to one's holdings - personal or investments.
---
Easements can benefit or burden a number of parties on or around certain tracts of land. Easements are common on most parcels of land. An easement can give one the right to use another person's land for a stated purpose. It can involve a general or specific portion of the property for various different uses. Many surveyors today do not thoroughly research properties and do not always show easements on their work that may be crucial to the rights associated with a parcel of land.
---
Now more than ever, it's important for a land surveyor and lawyer to work as a team. The services of an experienced land surveyor can prevent future expenses or even the undertaking of defending a lawsuit.
---