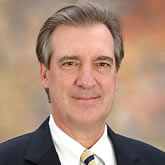 EJ Janik, CPA, CFF, CFE
is a
Certified Public Accountant
with 37 years of professional experience. He specializes in financial audits, compilations and reviews, consulting for commercial litigation, antitrust matters, engineering and construction matters, real estate, and bankruptcy / business reorganizations matters. Mr. Janik holds a Master of Science in Accounting from Louisiana State University and a Bachelor of Commerce from Rice University. He is a member of the American Institute of Certified Public Accountants and the Texas Society of Certified Public Accountants.
Mr. Janik has provided over 150 financial audits and consulted in over 685 business disputes. He has provided expert testimony in over 80 matters including trial testimony in 48 trials or hearings in 8 states. Mr. Janik's accounting services include Damages/Lost Profit analysis, Forensic Accounting, Fraud Investigations, Fact Finding, Financial Analysis, and Expert Witness Testimony when necessary.
Litigation Experience
:
Antitrust/Pricing Issues
Audits
Bankruptcy Analysis
Business Interruption
Business Valuation
Construction Claims
Contract Disputes
Cost Determinations
Criminal Investigations
Damage Analysis/Critiques



Debt & Capital Analyses
Dispute Resolution
Due Diligence
Environmental Claims
Feasibility Studies
Forensic Accounting
Fraud Investigation/Analysis
Hazardous
Waste/Remediation
Insurance Claims


Lost Profits
Mergers & Acquisitions
Real Estate
Royalties, Commissions, Income
Solvency
Superfund/Environmental Claims
Tracing
Valuations
Wastewater
White Collar Crimes
Mr. Janik is also uniquely qualified to measure construction claims and damages. With over 11 years of construction experience, he has accumulated over 13,000 Engineering and Construction (E&C) auditing hours, 10,000 E&C consulting hours, and 15,000 E&C supervised hours.
Construction Claims Services include
:
Acceleration
Change Orders
Costs
Defective Plans
Differing Site and Concealed Conditions
Direct Costs
Disruption
Evaluating Claims

Indirect Costs
Overhead
Payroll Fringe Burdens
Profit
Pre-Qualification Filings
Superfund / Hazardous Waste Sites
Terminations
Other Construction Issues
View EJ Janik's Consulting Profile
.
*Ryan Fraud and Forensic Recovery, LLC is not a CPA firm.