PRESS RELEASE DETAIL 87
A Press Release is one of the most cost-effective tools there is. Build credibility by publicizing your company events, performances, and other newsworthy items. Contact Us to feature your Press Release.
Return to Press Releases List
2/27/2015 12:00:00 AM
Experts.com Offers Webinar Services To Its Members As Additional Tool To Monetize Expertise
---
Experts.com, a leading provider of marketing services to the Expert Witness and Consultant industry, announces webinar solutions to assist members in promoting their expertise.
---
Stockton, CA (PRWEB), February 27, 2015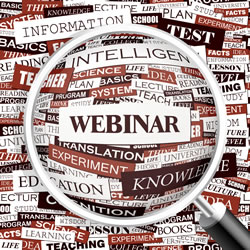 Experts.com is now offering webinar services to allow its expert witness and consultant members a dynamic medium to communicate their knowledge to a geographically wide audience. Members can design their webinars to promote awareness, build relationships, affirm their position as an industry expert, and generate leads that will eventually convert to profits.
Experts.com's dedicated Member Success team will assist the Members with a variety of services to ensure the webinar's success, including:
Building and testing registration landing page
Marketing to and inviting up to 100 guests
Managing the audience and fielding questions
Monitoring the audio quality and pace
Conducting real-time polls and surveys
Linking audio/video recording
Archiving recordings for future use
Sending follow-up emails to guests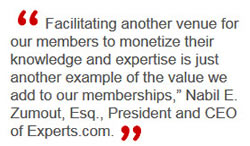 Members who take advantage of this service will be able to link the webinars, along with books, articles, and video files to their Profiles on Experts.com and on their own websites.
When used properly, webinars can be a very effective and valuable tool to market services, knowledge, and expertise. "Facilitating another venue for our members to monetize their knowledge and expertise is just another example of the value we add to our memberships," says Nabil E. Zumout, Esq., President and CEO of Experts.com.
If you are interested in more information, please complete our webinar-interest form.
ABOUT EXPERTS.COM - KNOWLEDGE CONNECTED!TM
Since 1994, Experts.com has offered expert witnesses and consultants worldwide an effective platform to promote their services and expertise to legal professionals, the media and business clients worldwide. Experts.com does not broker the engagement between its clients and members and does not mark up its members' fees. Clients may search over 1385 expert witness areas of expertise or have Experts.com's knowledgeable staff complete the search for no added cost. 1-866-2-EXPERTS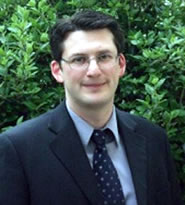 Todd Finnerty, PsyD
Clinical / Forensic Psychologist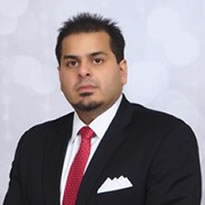 Mustafa A. Mufti. MD
Clinical Psychiatry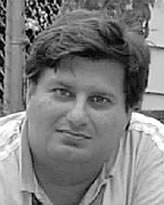 Vincent A. Ettari, P.E., P.C.
Design, Analysis, Expert, Trial, Forensic Witness