During 1990, the Specialty Vehicle Institute of America (SVIA) with the assistance of the American National Standards Institute (ANSI) published the first standard for ATVs referred to as ANSI/SVIA-1-1990. During 2001, ANSI/SVIA revised this standard referred to as standard ANSI/SVIA 1-2001. The standard was revised again during 2007 and again in 2010 and is referred to as standard ANSI/SVIA 1-2010. According to the standard ANSI/SVIA-1-1990, an All Terrain Vehicle (ATV) is any motorized off-highway vehicle 50 inches or less in overall width with an unladen dry weight of 600 pounds or less designed to travel on four low pressure tires having a seat designed to be straddled by the operator and handlebars for steering control and intended for use by a single operator and no passenger. Width and weight is exclusive of accessories and optional equipment. ATVs are subdivided into four categories as follows:
ATV's are straddled and sat on by an operator similarly to a motorcycle. The ATV is controlled utilizing a handle bar for steering, a throttle thumb lever for engine/vehicle speed control, hand levers for the brake and clutch, foot peddle for brakes, a foot gear shifter or hand shifter to change the transmission gears and foot pegs and/or running boards as foot rests.
The first ATVs were introduced to the American marketplace during the 1950's. These early models utilized a six wheel design and are referred to as an AATV which means Amphibious All Terrain Vehicle. The AATV's were designed to float and propel themselves on water and could manuver through swamps and creeks.
According to the Specialty Vehicle Institute of Amercia (SVIA), the first recreational ATV to be introduced into the American marketplace was by Honda during 1970 and was called the ATC90 and was a three wheeler that had one forward wheel for steering and two rear drive wheels for propulsion. Soon after, Yamaha, Kawasaki and Susuki follows with their 3-wheeled versions. The first four-wheel recreational ATV was introduced to the American marketplace by Honda during 1984 called the TRXTM 200.
Unfortunately, some riders are either seriously injured or killed in ATV accidents in the United States each year. These accidents take place due to various reasons some of which are mentioned here:
a novice rider having very little expereince riding ATV's.
riding to aggressively for the conditions.
defective components.
component malfunction or breakage.
an ATV wheelies on the rear wheels and flips backward onto the rider.
colliding with a stationary object such as a tree at high speed.
colliding with another ATV.
ATV rolling down an embankment onto the rider.
We provide the following forensic engineering services for ATV accidents:
ATV Accident Reconstruction
Preimpact and Postimpact Velocities
Vehicle Trajectory
Cause Analysis
Human Factors
Vehicle Inspections For Defects and Non-Conformance
Product Defect and Failure Analysis
Catastrophic Component Failure Determination
ATV Safety
Standard of Care
Gary is an avid ATV rider. He obtained ATV rider's training through the ATV Safety Institute. He owns and rides the 2007 Honda Rancher pictured below.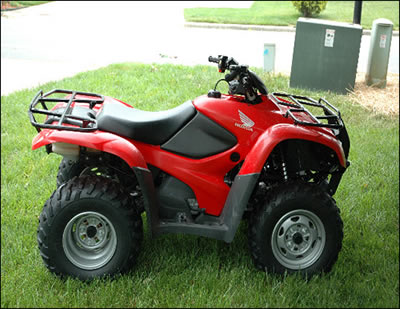 ---
Gary E. Kilpatrick and Associates, PA, is a Forensics Engineering Firm dedicated to the application of the art, science and methodology of engineering and the scientific method to answer questions of fact in the jurisprudence system pertaining to personal injury and wrongful death.

©Copyright - All Rights Reserved
DO NOT REPRODUCE WITHOUT WRITTEN PERMISSION BY AUTHOR.