The structural behavior of automobile seats and seatbacks is one of the factors often examined in investigating injuries to a vehicle's occupant(s) in crashes. In the product liability arena, this topic is one of special interest in rear crashes. What role do these structures play in these cases? This is a brief report based on our structural and statistical analyses as well as the relevant published research.
PRODUCT LIABILITY ISSUES:
The Claims
: These claims generally have been that 'the injuries to the
automobile occupant
occurred because the seatback deformed excessively causing large excursions of the occupant and subsequent contacts with parts of the vehicle or with another occupant. Statements have also been made that a stiffer structure for seatbacks may have reduced or eliminated these injuries.
The Debate: The product liability debate has focused on 'stiff' seatbacks versus 'yielding' seatbacks and the advantages of each in reducing rear crash injuries.
Terminology: It should be noted that seatbacks are 'distributed structures' and thus cannot be scientifically described by a single parameter or by one simple term ('stiff', 'yielding' etc). These non-technical, quantitative descriptions of distributed structures are used to convey the notion that one seatback ('stiff') would have undergone smaller deformations in a controlled laboratory test with specific loads as compared to another ('yielding') seatback in exactly the same test.
THE STRUCTURAL MECHANICS
Do Seatbacks Fail?: All structures deform (i.e. yield under loading). Seatback deformations may consist of several components: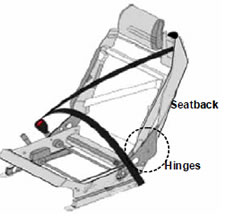 Compression of the padding on the seatback
Bending and deformation of the seatback frame
Rotation of the seatback around the hinges
Deformation of recliner structure and resulting rotation of seatback
Motion and deformation of the seat bottom structure
Deformation of the vehicle floor and resulting motion of seat and seatback
Deformations in the joints and connections
THE LAW:
Current
: There are no US laws (Federal Motor Safety Standards or FMVSS) requiring dynamic tests of seats or seatbacks in high speed
rear crashes
. However, there are quasi-static test requirements (FMVSS 207 and FMVSS 210) for structural behavior of automobile seats and their attachments to the floor. A recent regulation (FMVSS 202a) was established to govern the design of headrests and is intended to improve safety in low speed rear crashes. In addition, Insurance Institute for Highway Safety conducts tests simulating lspeed rear crashes and rates the vehicles in four different categories. This, however, is not an FMVSS.
Future: Improving safety in high speed rear crashes ranks probably as a low priority in traffic safety for the US government because of the relatively few major injuries and fatalities associated with this crash mode.
THE STATISTICS:
Big Picture:
The average number of occupants involved in crashes every year in the US, as estimated from the NASS-CDS database of the National Highway Safety Administration, has been published (see Verma & Goertz, "Evaluation of Pre-Crash Sensing and Restraint Systems Effectiveness", SAE Paper 2010-01-1042) and is shown here.
Comparison of this 'exposure' data with the 'recorded injury' data in the NASS-CDS database (1996-2007) shows that rear impacts are associated with comparatively lower rates of injuries than do other crash modes. The number of occupants with recorded maximum abbreviated injury severity ('AIS') greater than or equal to 2 (level 2 indicates 'moderate' level of injury on the 'AIS' scale) is shown here.
---
Dr. Mukul Verma is a well-known expert in Automobile Safety and Crashworthiness, Vehicle Structures, Product Design, and Statistical Analyses of Traffic Trends and Regulations . He has worked in many engineering and management positions at a major automobile manufacturer including assignments in R&D, vehicle design, analysis and testing and engineering program management.


©Copyright - All Rights Reserved
DO NOT REPRODUCE WITHOUT WRITTEN PERMISSION BY AUTHOR.