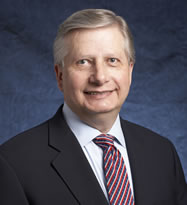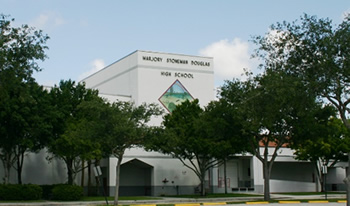 As was evidenced in the recent shooting incident at the Marjory Stoneman Douglas High School in Parkland, Florida and numerous other Active Shooter incidents, the perpetrators often exhibit disturbing or threatening behavior prior to the incident but it was not dealt with sufficiently to anticipate or prevent the event. Some perpetrators also shared with other persons their intent to do harm or exhibited desires/planning to harm themselves or others.
After the tragedy at Virginia Tech, the university embarked on developing a threat management program that has become the standard for such a program and has been the impetus for such programs in other educational, governmental, and corporate environments. Unfortunately, most schools, institutions and corporations still have no clear program for identifying, assessing and managing potential threats to the organization, its students, its faculty, its management and supervision or its general staff, as appropriate. Current workplace violence prevention practices at most organizations are deficient in defining how a person would report concerns regarding suspicious or questionable behavior. Further, there is frequently no training to assist in identifying observations that should be reported, nor an anonymous method for such reporting.
This problem is not diminishing as a real threat to our communities, schools and workplaces. According to the United States Department of Homeland Security, an Active Shooter is defined as an individual actively engaged in killing or attempting to kill people in a confined and populated area. Active Shooter incidents do not include the following situations: gang-related shootings, shootings that solely occurred in domestic settings, robberies, drive-by shootings, attacks that did not involve a firearm, ballistic attacks (act of terrorism) and attacks categorized primarily as hostage-taking incidents.
The most recent study conducted by the FBI regarding active shooter incidents in the United States between 2000 and 2013, reported that:

160 active shooter incidents occurred in the United States between 2000 and 2013.
70 percent of all active shooter incidents identified occurred at a commercial business or an educational institution.
An average of 11.4 incidents occurred annually. Further analysis indicates that an average of 6.4 incidents occurred annually during the first 7 years studied, and an average of 16.4 incidents occurred in the last 7 years of the study, thereby indicating a notable increase in this threat for commercial and educational institutions.1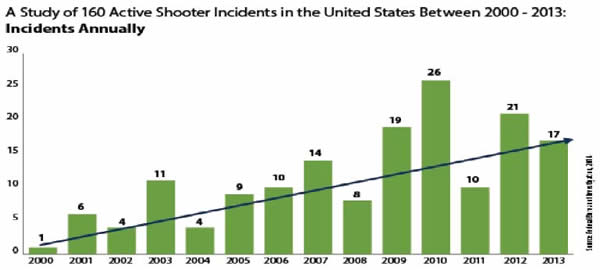 However, most organizations have recognized this threat and have begun efforts to address the issue by conducting Active Shooter preparedness training that discusses appropriate response protocols (Run, Hide, Fight) and then conducting drills to ensure readiness. Such training and drills are a very good step in mitigating the danger posed by such a threat becoming a reality.
However, Active Shooter training and drills alone don't address the issue of fore-knowledge which can be utilized to prevent the incident from ever occurring. We therefore offer the following recommendations to every organization, school, workplace and institution for developing a program that recognizes threats and deals with them in the earliest stages.
Recommendations
Institute a Workplace Threat Management Program through the development and publication of an institutional or corporate policy that establishes a Threat Assessment Team (TAT) and defines their roles, responsibilities and authorities. In Virginia Tech's demonstration project report, Implementing Behavioral Threat Assessment on Campus, the authors state that establishing a mission statement and defining the responsibilities and authorities of the TAT was an important first step in the process. Some organizations and institutions have chosen a different title for this group, such as Behavioral Intervention Team, to lessen the thought that any issue uncovered may be a threat. However, establishing the team and defining its role is the important element; what it is called is secondary and should be the best fit for the organization's culture and philosophy.
Whatever the team is called its typical composition for a school should include at a minimum:
Principal
Chief Security Officer
Legal Advisor: Outside Counsel (On-call)
Dean of Students
Nurse
Student Counselor
Clinical Psychologist (On-call)
Alternates for each functional entity
In their post titled "Taking Threats Seriously: Establishing a Threat Assessment Team and Developing Organizational Procedures", the Crisis Prevention Institute defines the primary goal of the TAT as proactively assessing the conditions, policies and procedures of the organization in order to prevent or reduce the chances that a potentially violent situation will occur. Based upon their post and the author's prior experience, in the event of a threat the TAT is also responsible for:
►Acquiring the consultation and resources necessary for a comprehensive investigation
►Investigating the risk posed by the circumstance
►Planning and implementing a risk abatement plan
►Determining the appropriate interventions for both the subject and target(s)
►Involving law enforcement authorities when necessary
►Overseeing post-intervention to ensure the risk has been mitigated
►Documentation
►Modifying, enhancing or implementing procedures, practices or facility security measures that may have been deficient in resolving the situation, preventing its escalation or may have contributed to its occurrence
Establish a confidential reporting mechanism, such as a hotline, for all persons to be able to feel comfortable that they can report observations and concerns without fear of repercussions or recrimination. Along with this reporting mechanism, it is equally important to establish an investigative protocol that defines how all reports, regardless of how they are received, will be thoroughly investigated.
Distribute or post a formal announcement of the establishment of the TAT along with information on the hotline or other confidential reporting mechanism.
Conduct Safety in the Workplace training for all students, faculty, and staff, either in a classroom environment or virtually, to provide guidance on the appropriate reporting requirements and response for all personnel regarding indicators they may observe in staff members or others of potential for violence and other forms of threats that may be communicated or initiated via postings, social media, etc. The training should also state that the filing of false reports would be considered a violation of the organization's code of conduct and may result in disciplinary action.
Develop the capability to monitor social and news media for potential adverse or threatening information posted concerning the organization or any of its faculty, staff, students or other employees. Analysis of this information by the TAT could result in enhanced protective measures or notification of local authorities when such postings imply or indicate potentially threatening actions.
Reference Materials
Virginia Tech: Implementing Behavioral Threat Assessment on Campus; Marisa Randazzo, Ph.D. and Ellen Plummer, Ph.D., November 2009
American Psychological Association: Threat Assessment in Action; Anna Miller, February 2014
National Behavioral Intervention Team Association: Behavioral Intervention Teams for Corporations and Organizations; unaccredited, undated
Association of Threat Assessment Professionals: Risk Assessment Guideline, Considerations for Assessing the Risk of Future Violent Behavior; various contributors, September 4, 2006
Crisis Prevention Institute: Taking Threats Seriously: Establishing a Threat Assessment Team, William Badzmierowski and Renee Fucilla, undated
ASIS International: Workplace Violence Prevention and Intervention, various contributors, September 2, 2011
__________________________________
1https://www.fbi.gov/file-repository/active-shooter-study-2000-2013-1.pdf
---
James A. Francis, CPP, CFSO, has over 30 years of experience in the Security Profession, spanning both government and industry. Mr. Francis started his security profession as a Special Agent with the U.S. Air Force Office of Special Investigations. He later managed the security and safety program for a major division of Lockheed Missiles and Space Co., Inc. He capitalized on this broad expertise during his tenure at T&M Protection Resources and Kroll where he achieved the position of Senior Vice President at both companies. As President & Chief Consultant at LFJ Consulting Services, Mr. Francis provides leadership on a broad range of offerings in the areas of expert services, litigation support, security, and crisis management.

©Copyright - All Rights Reserved
DO NOT REPRODUCE WITHOUT WRITTEN PERMISSION BY AUTHOR.