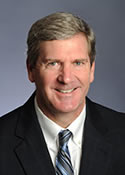 Supernumerary teeth in the absence of syndromes such as cleidocranial dysplasia or Gardner's is a rare event1-3. The most common supernumerary tooth is the mesiodens which appears in the maxillary midline.3 The exact etiology of supernumerary teeth is unclear but many theories exist in an attempt to explain why extra teeth are present in some individuals1-3. Supernumerary teeth are classified according to morphology and location.3 Impacted supernumerary teeth may present as asymptomatic but can cause a plethora of clinical problems including, but not limited to: failure of eruption of teeth, displaced eruption of teeth, crowding, root resorption, and cyst formation.3
When supernumerary teeth are discovered and orthodontics employed, a decision regarding the fate of supernumerary teeth must be made. An important part of the decision process is determining the precise location of the supernumerary teeth. Because supernumerary teeth can cause delayed/impeded eruption of teeth, root resorption, and/or inability to properly orthodontically move teeth into proper position, most supernumerary teeth should be removed prior to orthodontic treatment.1,3
Prior to the development of three dimensional Cone Beam Computed Tomography (CBCT), determining the exact location of impacted supernumerary teeth could be approximated with multiple x-rays from different angles. Distortion, projectional effects, and superimposition of adjacent structures often makes precise localization on the intended tooth difficult.2 CBCT has been shown to provide superior three dimensional imaging to "plain films" and provide the doctor with precise anatomic truth in determining the location of impacted teeth.1,2
The following is an example of an oral surgery case in which CBCT images were employed to provide the surgeon with detail imaging of the patient with multiple supernumerary teeth.
Case Report
The patient was referred to the oral surgeon's office from the orthodontist for evaluation and treatment of impacted wisdom teeth as well as impacted supernumerary teeth in the left maxilla and mandible. Evaluation of the Panorex (fig 1) shows impacted wisdom teeth and additional wisdom teeth (16a, 17a,& 32a) along with supernumerary impacted teeth 12a and 21a. Due to the inability to palpate either 12a or 21a, and the close proximity of these teeth to adjacent teeth and vital structures, a CBCT was ordered.
Examination of the images from the CBCT (Fig 2 thru 6) shows the palatal location and the lingual location of teeth #12a and #21a respectively. Tooth #21a (Fig 3) is also quite close to the inferior alveolar nerve.
After discussion of the CBCT findings with the patient and parent, informed consent was obtained for extraction of the wisdom teeth and all supernumerary teeth. Because the precise location of 12a and 21a were known to the surgeon, a palatal/lingual approach was used to access and extract 12a and 21a respectively. The patient recovered without event.
Discussion
Correct surgical-orthodontic management of patients with impacted supernumerary teeth is enhanced by accurate diagnosis and precise localization of any supernumerary teeth.1 CBCT allows the surgeon and orthodontist to more accurately evaluate the exact location of supernumerary impacted teeth as well as assess their impact on the patient's orthodontic plan. Knowledge of the precise location of the supernumerary impacted teeth provides the surgeon with better diagnostic tools and thus allows him to better determine the risks and benefits of the surgery. This increased knowledge also translates into determination of better surgical approach when extracting the teeth and less risk to the patient.
Conclusion
The use of CBCT imaging in patients with impacted supernumerary teeth provides the surgeon with superior anatomic truth when determining the precise location of the impacted supernumerary teeth.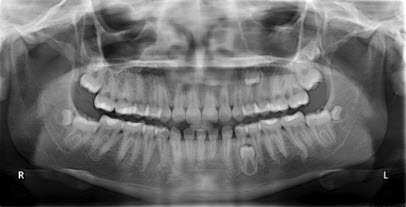 Figure 1: panorex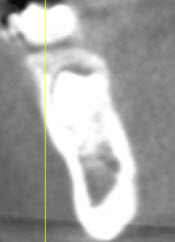 Figure 2: Sagittal plane view of mandible thru 21a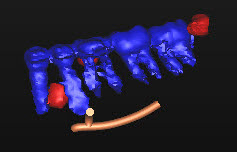 Figure 3: CBCT 3 D image of mandible teeth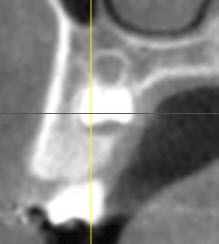 Figure 4: Sagittal view of maxilla thru 12a
Figure 5: Transverse plane of maxilla
References
1. Brauer HU. Case Report: Non-syndromic multiple supernumerary teeth localized by cone beam computed tomography. Eur Arch Paediatr Dent 2010; 11(1), 41-3.
2. Walker L, Enciso R, Mah J. Three-dimensional localization of maxillary canines with cone-beam computed tomography. Am J Orthod Dentofacial Orthop 2005; 128(4), 418-23.
3. Garvey MT, Barry HJ, Blake M. Supernumerary teeth-An overview of classification, diagnosis, and management. J Can Dent Assoc 1999; 65,612-6.
4.Gurgel CV, Costa AL, Kobayashi TY, Rios SM, Machado MA, Oliveria TM. Cone beam computed tomography for diagnosis and treatment planning of supernumerary teeth. Gen Dent 2012; 60 (3), 131-5.
---
Dr. Lee (Mac) Whitesides, DDS, MMS is Board Certified in Oral & Maxillofacial Surgery. Dr. Whitesides is one of only two oral-maxillofacial surgeons in the United States who currently hold a Masters degree in Anesthesia and Oral Surgery. He has extensive experience with Distraction Osteogenesis for the Maxillofacial Skeleton, generating sufficient quantity of bone height and width to provide the appropriate foundation for Dental Implants.

©Copyright - All Rights Reserved
DO NOT REPRODUCE WITHOUT WRITTEN PERMISSION BY AUTHOR.