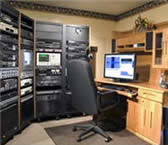 Abstract:
A protocol is described to improve the voice intelligibility of investigative and other forensic audio recordings collected via digital recording systems, whether audio only or audio/video units. Sections are included on the differences between analog and digital recordings used in the forensic field, appropriate laboratory space, applicable equipment and software, enhancement examination procedures, enhancement examples, evidence handling, and expert testimony.
This article is available for purchase from the Audio Engineering Society: http://www.aes.org/e-lib/browse.cfm?elib=14163
---
Bruce E. Koenig is the senior examiner and owner of BEK TEK LLC. He has been involved in the Forensic Analysis of Audio and Video Recordings on a full-time basis since 1974. Mr. Koenig & his associates conduct forensic examinations of audio and video media (analog and digital) to authenticate recordings, improve intelligibility, identify/classify voice and non-voice signals, and compare voice samples.
See Bruce E. Koenig's
Profile on Experts.com
.
©Copyright - All Rights Reserved
DO NOT REPRODUCE WITHOUT WRITTEN PERMISSION BY AUTHOR.