The Problem
Think you've done everything a prudent person should do to make sure your workers are safe? Think you've done everything necessary to protect yourself and your company against a wrongful death suit? Well, I've got news for you, it's not good and here's why
In late 2017, I was one of four members of a committee that was charged with creating a test for EOT crane inspectors to attain Inspector Certification by the CCAA (Crane Certification Association of America). I had arranged our first meeting to be a two-hour teleconference between the four members of the committee.
The committee were all CCAA members, and the team was comprised of:
one PE with 40+ years crane experience,
one 30+ year former crane manufacturing company owner (me),
one inspector that started out with P&H and spent the last 20 years as an owner of his own EOT crane inspection company
a former EOT crane service manager of 15+ years
All in all, over 100 years of EOT crane experience.
Part of putting a test together is getting agreement, not only on the test questions but also the answers to those questions. After an hour of discussion, we could only agree on answers and wording to one of the first five test questions. At that point, we stopped and took a step back. We decided it made sense to get agreement on precisely what spec(s) we're going to use as the our "bible," before we argue the specific issue
The specs we tossed about included;
OSHA 1910.179, Overhead and Gantry Cranes
ASME/ANSI B30.2, Overhead and Gantry Cranes, Top Running Bridge, Single or Multiple Girder, Top Running Hoist
ASME/ANSI B30.10, Hooks
ASME/ANSI B30.11, Monorail and Underhung Cranes
ASME/ANSI B30.16, Overhead Hoists (Underhung)
ASME/ANSI B30.17, Overhead and Gantry Cranes, Top Running/Single Girder Underhung Hoists
ASME/ANSI B30.20, Below the Hook Lifting Devices
ASME/ANSI BTH, Design of Below the Hook Devices
CMAA Spec 70, Specification for Top Running & Gantry Type Multiple Girder Electric Overhead Traveling Cranes
CMAA Spec 74, Specification for Top Running & Under Running Single Girder Electric Traveling Cranes Utilizing Under Running Trolley Hoist
NEC 70, Article 610, Cranes & Hoists
AIST TR-06, Specification for Electrical Overhead Traveling Cranes for Steel Mills
AIST-TR-13, Guide for the Design and Construction of Mill Buildings (with cranes)
The OSHA Clarifications: periodic letters of clarification issued by OSHA in response to questions submitted to them
The ASME B30 Clarifications: periodic letters of interpretation issued by the committee in response to questions sent to them
The CMAA Clarifications: periodic letters of clarification published by CMAA in response to questions submitted to them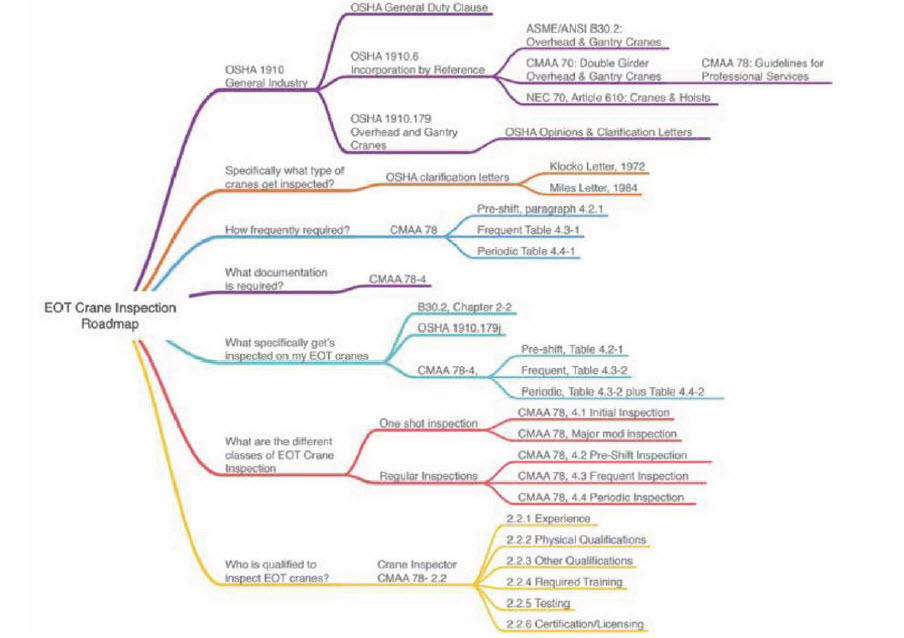 We then spent the remainder of our the meeting trying to agree on what specifications we should be using. We adjourned the meeting without agreement. Bottom line, four people with over 100 years of experience couldn't agree on the ultimate authority let alone the pertinent questions and answers to determine certification.
When four experts, with over 100 years of experience, can't agree on who's rules rule, what is a crane owner or maintenance manager supposed to do? Today, it's critical to understand that the ultimate arbiter is not OSHA, the final authority is a multimillion-dollar judgment resulting from an industrial accident. If we can't define the rules, the winner will be the party with the most expensive lawyer.
A 1939 quote best describes the US safety codes from, no less than, Winston Churchill. While talking about Russia in the early days of WWII, Churchill said, "I cannot forecast to you the action of Russia. It's a riddle wrapped in a mystery, inside an enigma."
Much the same can be said about the Byzantine US safety regs pertaining to overhead crane inspection requirements, and here's why.
OSHA's 50 Year "Strike Out" at Attaining Clarity:
STRIKE ONE: OSHA 1910.179(j)
While crane owners ask for "OSHA safety inspections" and inspection companies advertise providing "OSHA EOT crane inspections," OSHA says precious little about the specific requirements of an Overhead Crane inspection. Section 1910.179(j) Inspections, consists of just 667 words about EOT crane inspection requirements.
STRIKE 2: OSHA 1910.6: Incorporation by Reference
Most crane owners think 1910.179 is the full extent of crane regulation in OSHA. In fact, 1910.179 is just the tip of the iceberg. To fully understand the requirements of OSHA, you need to start with 1910.6, a little-known section called "Incorporation by Reference."
OSHA 1910.6 lists 197 other specifications and regulations and gives them the full force of law. These specs include documents like the NEC (National Electric Code), AWS (American Welding Society codes) and 195 others.
To give you an idea of the magnitude of 1910.6, if each of these "incorporated by reference docs are 100 pages in length (a ballpark guesstimate), that's another 19,700 pages to learn, and if they cost $100 each (ballpark price), it's going to cost you $19,700 to find out what they say! This represents an unreasonable burden in both time and money for the average EOT crane owner.
After combing through this list of the 197 referenced documents, documents that are, because of "incorporation by reference" considered to be part of OSHA, I have determined the following four specs to be of primary concern to people involved with EOT cranes.
OSHA 1910.179: Overhead and Gantry Cranes (the master document)
ASME/ANSI B30.2: Overhead and Gantry Cranes, Top Running Bridge, Single or Multiple Girder, Top Running Hoist (incorporated by reference)
CMAA 70: Specification for Top Running & Gantry Type Multiple Girder Electric Overhead Traveling Cranes (incorporated by reference)
NEC 70, Article 610: Cranes & Hoists (incorporated by reference)