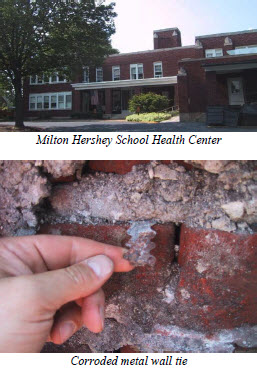 PROJECT
Milton Hershey School Health Center
Hershey, Pennsylvania
CLIENT
The Ray Group
Lancaster, Pennsylvania
PROJECT DESCRIPTION
The Health Center building on the Milton Hershey School campus was designed in 1932 as load-bearing masonry construction with steel framing used to support floor and roof loads and loose steel lintels spanning over window and door openings. Atkinson-Noland & Associates was retained to conduct an investigation of the exterior load-bearing masonry walls and structural steel framing for the purpose of identifying typical as-built conditions as well as the locations and severity of any deterioration.
SERVICES PROVIDED BY ATKINSON-NOLAND
Condition survey to identify damage throughout the exterior
Generation of as-built wall section details using borescope investigations and microwave radar
Laboratory characterization of mortar samples
In situ testing to investigate corrosion of steel elements
Structural analysis of masonry walls and steel lintels
---
Atkinson-Noland & Associates, Inc. (ANA) has provided structural engineering services for federal, state, and private organizations since its founding in 1975. The unique organization of the firm strives to balance a commitment to innovative research and development goals with direct application to problems in the field. The experience and education of their professional and support staff provides a strong capability for handling difficult and challenging material and structural engineering problems. Through ongoing research and practice, the firm has established itself as one of the foremost international authorities on both historic and modern masonry structural systems.

©Copyright - All Rights Reserved
DO NOT REPRODUCE WITHOUT WRITTEN PERMISSION BY AUTHOR.