Prolifogy's failed project turnaround service has generated increased interest recently. Specifically, it was the most requested of all service offerings last month—a fact that surprised even company officials.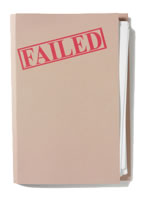 There is no strict or all-encompassing definition of software project failure. However, most Prolifogy turnaround projects are characterized by early issues and subtle failures that culminate into a project stoppage, ending with either the total disposal or reworking of the project's major assets. The potential causes are numerous and vary widely between projects. "Poor application design," explains Prolifogy expert Dr. Emdad Khan, "lack of ownership and commitment from the developers, silos, poor communication and coordination among team members, rigidity of viewpoints, unwillingness to learn and use new approaches, and even arrogance are all potential causes of failure."
When failures do in fact occur, firms with business-critical applications hire Prolifogy to evaluate the post-failure project state and provide actionable recommendations. This includes reviewing the project plans, human resource allocation, completed implementation units, interviewing team members, and then ultimately formulating a turnaround plan. Time is almost always of the essence, making an already difficult job that much tougher and highlighting the need for very experienced experts.
In almost all cases, clients requiring this service contact Prolifogy after the failure has already occurred. The timing of the initial call is significant because the task of backing a very large software project out of a failure state versus avoiding failure in the first place requires completely different skills and most software engineers don't have any experience with the former. Further complicating matters is that very few firms openly advertise turnaround services, and are reputable enough to offer them in the first place. This not only leaves managers of tenuous projects with nowhere to turn, but also further perpetuates the myth that project failure is a rarity, as purported by the apparent lack of such services.
While most professionals are willing to acknowledge that software projects fail all the time throughout industry, few have ever admitted specific failures of any technically substantial project on the record, let alone shared the details. This understatement of the true frequency of project failures is just as problematic as the failures themselves. It is indicative of an industry that cannot learn from its mistakes because it has been given no means of doing so. For precisely this reason, the empirical wealth of project failure knowledge held by Prolifogy experts is all the more valuable, since they see and work on these projects first hand.
Prolifogy advertises failed project turnaround services as a routine business concern. Few other consultants or firms have real experience dealing with the complex dynamics of project failure. It's a unique mixture of investigative work, politics, technical problem-solving, leadership, and dispute resolution skills. This is why companies turn to Prolifogy and it's roster of Ph.D. software experts and their twenty-two (22) years average experience as the authorities on software development knowledge and best practices. Prolifogy failed project turnaround services are available in the United States. Prolifogy experts can be reached for preliminary consultation at +1 (203) 350-9926. All inquiries are kept strictly confidential.
---
Prolifogy Software & Consulting offers Premium Software Consulting Services provided by industry leading experts. Today's software users expect and demand software that is more intelligent, interactive, usable, and reliable than ever before, over a backdrop of continuously evolving technology spanning a range of platforms.

©Copyright - All Rights Reserved
DO NOT REPRODUCE WITHOUT WRITTEN PERMISSION BY AUTHOR.