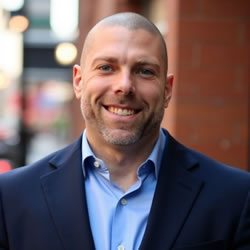 Preston Rideout is a highly sought-after Nightclub and Bar Consultant. His bar operations services are available to Casino Executives, Resort Operators, Hoteliers, Restauranteurs, Nightclub Management Companies, Bar Owners, Investors, Architects and Attorneys. Mr. Rideout is widely considered hospitality's leading expert in bar operations. He is the bar expert other consultants call for complex problems needing specialized solutions.
Background - In 1994, Mr. Rideout started bartending while attending The University of Mississippi. He put himself through college and law school by working at the Gin. Upon graduation, he relocated to Las Vegas to work for Pure Management Group.
While in Vegas, Mr. Rideout opened and operated Coyote Ugly, Tangerine Ultra Lounge, Pure Nightclub, Pussycat Doll Lounge, Audigier Nightclub, LAX Nightclub, Noir Bar, Venus Pool, Eve Nightclub, and Rehab Pool Party. When asked about his time in Las Vegas, he responds by saying, "It was like attending Graduate School for nightlife...I learned more in a decade than most people will learn in a lifetime."
In 2010, Preston launched into consulting by signing Jon Taffer from Bar Rescue as his first client. In 2017, he published a Bartender Training Manual receiving over 100,000 downloads.
Preston Rideout. His consulting methodology is simple, straight forward, and successful.
Operating Experience - Coyote Ugly, Tangerine, Pure Nightclub, Pussycat Doll Lounge, Audigier Nightclub, LAX Nightclub, Noir Bar, EVE Nightclub, Venus Pool, Rehab Pool, Electric Cowboy, Luke's Ice House, Twelve25, Red Rock, and The Gin.
Casino Experience - Treasure Island Hotel and Casino, Luxor Resort and Casino, Caesars Palace Hotel and Casino, Aria Resort and Casino, New York -New York Hotel and Casino, Hard Rock Hotel and Casino
Hotel and Resort Experience - The Alluvian Hotel, The Memphian Hotel, The Collegiate Hotel, Hotel Fenix, The Pink Shell Resort Hotel, The Millennium Hotel, and the Crown Plaza Hotel.
Management Group Experience - Pure Management Group, Western Entertainment River City Management, Beale Street Blues Company, CMB Holding Group, and Beyond Hospitality Business Group