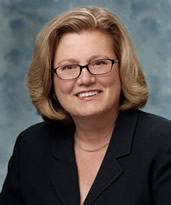 The US Department of Justice (DOJ) recently joined a federal qui tam lawsuit1 brought against a private equity firm that specializes in health care pharmacies. Notably, the case also charges individual partners of the private equity firm, Riordan, Lewis & Haden, Inc. (RLH) based in Los Angeles2. They are charged with violations of the federal Anti-Kickback Statute (AKS) and the federal False Claims Act (FCA) in connection with their management of Diabetic Care Rx/Patient Care America (PCA), a compounding pharmacy. The case involves reimbursements from TRICARE, the health care program for the military and their families.
The complaint alleges that the firm and its partners violated the False Claims Act by seeking payment for prescriptions that were written by doctors who had not seen the patient and for whom there was no legitimate medical need.3 The government also accuses them of paying kickbacks in the form of commissions for unnecessary compound prescriptions, including pain and scar creams. The Anti-Kickback Statute prohibits the knowing and willful, offer, solicitation, payment, or receipt of any remuneration, to induce or in return for referring an individual for health care for which payment may be made under a federal health care program. Penalties in these cases can be steep: Violations of the FCA bring possible civil penalties of $10,957 to $21,916 per claim,4 plus treble damages, and reimbursement of attorney fees and costs. AKS civil monetary penalties can be as high as $50,000 per claim plus treble damages. Several recent pharmaceutical cases were settled for over a billion dollars.5
The government in Medrano finds it significant that the private equity partners sought to increase the value of PCA and exit the investment in five years. Health care investors typically have a goal of increasing the value of the company and then selling it at a profit. But in this case, the government alleges that the way they went about it violated the law. It claims that two partners, PCA board members, led an initiative to increase revenues by entering the pain management market, looking for a quick payback, but crossing the line from an ethical point of view. The government alleges that they entered into aggressive marketing contracts, with high commissions, that generated possibly fraudulent claims for a new product; and that this was done to make up for lost revenues from lower than expected government pricing for other products. The case was originally filed in 2015 and the government intervened in February of this year.
Follow the Money
The government's approach to health care fraud has always been to "follow the money", and while private equity has not previously been on the radar, this is changing. Bain & Company recently reported a "surge" in retail healthcare deals.6 From 2012 to 2017, the number of deals has "soared, increasing at a compound annual rate of 34% in North America."7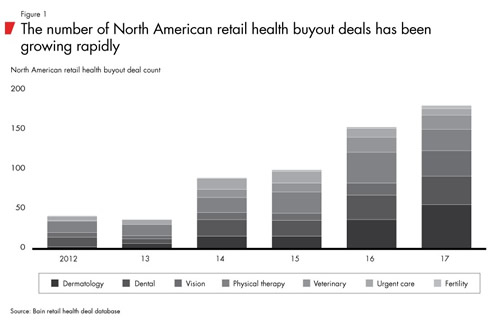 Investors see health retail health care as a fragmented, high margin sector, with opportunity for consolidation, performance improvement and growth. The fact is that Medicare, Medicaid and other federal (like TRICARE) and commercial health coverage programs are a reliable and prompt revenue source. Often consumers are paying little or nothing for the goods or services. New technologies in health care and an aging baby boomer population also indicate innovation and growth in the health care sector.
The Office of Inspector General for Health and Human Services (HHS-OIG) has begun to identify dentists in "chain" practices, often funded by private equity, as having a propensity for performing unnecessary dental procedures on children in the Medicaid program. And several fraud settlements have been reported in these cases.8 Franchise type operations in urgent care and physical therapy also appear to be areas of interest to the government.
The Yates Memo - Individual Accountability
One of the most interesting and concerning aspects of Medrano is the fact that individual partners and executives of the company were also charged. Former U.S. Deputy Attorney General, Sally Yates, issued a memo in 2015 on individual accountability for corporate wrongdoing. It stated: "One of the most effective ways to combat corporate misconduct is by seeking accountability from the individuals who perpetrated the wrongdoing."9 The memo goes on describe six elements of this policy which are currently reflected in the US Attorney's Manual (USAM) at 9-28.210 - 28.500.
The guidance requires prosecutors in civil and criminal case to strengthen their pursuit of individual corporate wrongdoing by taking the following six steps. 1) To qualify for a cooperation credit, the corporation must provide all relevant facts about the individuals responsible for the misconduct. 2) Prosecutors should focus on individuals from the start of the investigation. 3) DOJ criminal and civil attorneys should work together. 4) Absent extraordinary circumstances, individuals should not be released from liability when settling with the corporation. 5) DOJ attorneys must have a clear plan to resolve related individual cases. 6) Civil attorneys should consistently focus on responsible individuals and bring charges without regard to their ability to pay.10
The Risk to Private Equity Firms and Partners
---
Mary Wickens, JD, CFE, CHC is a consulting and testifying expert with over 35 years of experience in health care payments and compliance. She has experience in health plan mergers and acquisitions, including due diligence, contracting and government novation agreements. Mary has testified in several major False Claims Act and Anti-Kickback cases. Recently, she successfully testified in a commercial arbitration involving a private equity company and a health care company on this issue of government investigations and warranties.

©Copyright - All Rights Reserved
DO NOT REPRODUCE WITHOUT WRITTEN PERMISSION BY AUTHOR.