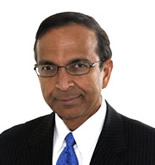 Mukul Verma, PhD
, (Mechanical Engineering & Applied Mechanics) is a consultant with more than 35 years of experience in
Vehicle Design
and
Automotive Engineering
.
His experience has included several engineering and management positions in development and testing of new vehicles at a major auto manufacturer. In these positions, he also led the implementation of numerous advances in design methodology and automotive safety technology. In addition, Dr. Verma has represented US automobile manufacturers' associations in international deliberations on traffic safety and was appointed as chairman of an international team of experts which he led to successfully develop solutions for improving the safety of occupants in passenger cars when impacted by heavier SUV or pickup truck.
Dr. Verma's academic experience has been in
Sustainable Transportation
and he has taught graduate courses in Mechatronics and in Intelligent tires-and-vehicles. He has been consulted by US government organizations on automobile designs for higher energy efficiency, by overseas groups on electric vehicle functional safety and by manufacturers' group on intelligent tires & vehicles, among others. Dr. Verma has published more than thirty papers in peer-reviewed journals and at international conferences and his interviews and opinions have been published in the US and in the international media.
Consulting Areas:
Vehicle Engineering:
Automobile design & testing. Passive Safety - airbags, sensors, structure components. Active Safety - Pre-crash sensors, Crash Avoidance, Autonomous braking. Electric vehicles' functional safety.
Sustainable Transportation Technologies: Designs for increased energy efficiency & safety. Intelligent Tires & Vehicles. Connected Vehicles. Mechatronics systems design.
Product Liability and Forensic Engineering:
Automotive Safety; Accident Analysis; Performance of vehicle structure, airbags, sensors, mechanical-electrical systems. Pedestrians' safety. Pre-crash safety; accident avoidance. Electric and Hybrid Vehicles. Post-crash protection.
Intellectual Property Claims:
Analysis of Patent infringement and patent validity claims in areas of automotive safety systems (airbags, sensors, restraint systems, etc.), Tires and TPMS, Mechatronics components.
View Dr. Verma's Expert Witness Profile
.
In crashes between two automobiles, it is generally assumed that the lighter vehicle will suffer more damage and that its occupants will suffer higher levels of injury.
---
Every year, there are approximately 6000 fatalities (6227 in the year 2018) and many more serious injuries to pedestrians and bicyclists from vehicles in the USA. More recent data1 show that these numbers have increased by 45% since 2009. These trends have varied over the years but injuries and fatalities to pedestrians and cyclists from automobiles remain a serious issue.
---
Hybrid cars have been on US roads for many years, starting with Honda InSight (1999) and Toyota Prius(2000) in mass production.
---
This article contains a few of the findings from our recent study of automobile safety in frontal crashes. Parts of the data analyses are presented but details such as the relationship of a particular design feature to the measured injury indicators are highly dependent on specific cases and are available only for individual discussions.
---
The structural behavior of automobile seats and seatbacks is one of the factors often examined in investigating injuries to a vehicle's occupant(s) in crashes.
---
Many automobile accidents are complex cases with multiple events during a single accident. The aim of forensic investigations of such (and all other) accidents is to reconstruct the sequence and the severity of events during the accident and then to establish cause and- effect relationships between the injuries (or damages) and the probable factors - vehicle design (e.g. brakes, structure, airbags); vehicle operator (e.g. distracted driver, alcohol impairment, reduced vision); and operating conditions (e.g. fog, failed traffic sign, excessive speed, icy road).
---
In crashes between two automobiles, it is generally assumed that the lighter vehicle will suffer more damage and that its occupants will suffer higher levels of injury.
---
The New Car Assessment Program (NCAP) conducted by the National Highway Traffic Safety Administration (part of the U.S Department of Transportation) underwent major changes recently. For automobiles designated as model years 2011 and later, the changes involve both what is measured and what is published.
---
Over the years, there have been several product liability litigations regarding pedestrians being injured and the front structure designs of the vehicles being alleged as the significant factor.
---
Airbags in modern automobiles have been around for many years and their record in improving occupant safety in crashes is generally well accepted. However, many questions still arise regarding their deployment and performance in crashes.
---