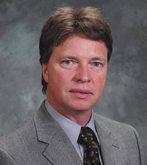 Edward S. George PE
, has over 30 years of experience in the field of
Product Liability and Failure Analysis
.
Mr. George earned his BS and MS degrees from the University of Florida Department of Materials Science and Engineering, graduating with a specialty in metallurgy. He is a licensed professional engineer in the State of Florida. Mr. George is a member of The National Society of Professional Engineers, The American Welding Society, The National Association of Forensic Engineers, The Florida Engineering Society, American Water Works Association, and The International Society for Fall Protection.
Mr. George has experience in a variety of material failures including
Metals, Polymers, Plastics, Composites, Ceramics, Glass, and Porcelain
.
Litigation Support
- A court-qualified expert, Mr. George has over 13 years of experience and has testified in depositions and trials. His forensic training is complemented by his industrial experience including:
Heat Treating of Metals
Welding and Joining of Materials
Materials Testing and Evaluation
Quality Control and Assurance
Optical and Scanning Electron Microscopic Techniques
Destructive and Non-destructive Physical Testing
Laboratory Equipment and Procedures
View Edward George's Consulting Profile
.