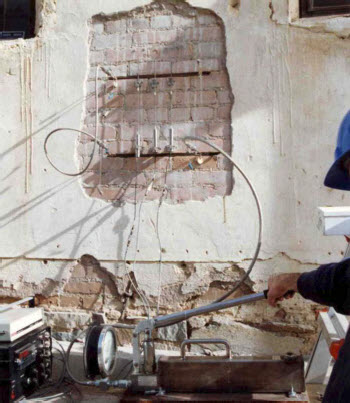 PROJECT
Sorenson Building
Masonry Evaluation
Cripple Creek, Colorado
CLIENT
Building Owner
Right: In situ masonry shear test using flatjack loading.
PROJECT DESCRIPTION
A two-story masonry building in the historical district of Cripple Creek, Colorado was assessed to determine its present condition. The building was to be retrofitted as a casino but was suffering from over 100 years of weathering in a severe climate and recent neglect. A full condition survey was conducted in addition to flatjack tests and in situ shear tests to determine material properties. An engineering analysis of main structural elements, including masonry bearing walls, timber columns, timber joists, and timber roof trusses, was conducted for both the existing condition and proposed casino usage. Several elements were found to be inadequate and did not comply with building code provisions. Options for strengthening and retrofit for these members were provided.
SERVICES PROVIDED BY ATKINSON-NOLAND
Documented existing condition of structure by visual examination and probing, including stone foundation, masonry bearing walls, timber columns, timber floor joist system, and timber roof trusses.
Conducted five in-place shear tests to determine mortar condition and shear capacity
Determined masonry compression strength by in situ tests.
Evaluated effect of out-of-plane bearing walls on masonry stresses by in place testing.
Analyzed the existing structure to determine acceptability for existing dead load and snow load combinations and proposed conditions including casino loadings.
Served as expert witness in providing litigation support.
---
Atkinson-Noland & Associates, Inc. (ANA) has provided structural engineering services for federal, state, and private organizations since its founding in 1975. The unique organization of the firm strives to balance a commitment to innovative research and development goals with direct application to problems in the field. The experience and education of their professional and support staff provides a strong capability for handling difficult and challenging material and structural engineering problems. Through ongoing research and practice, the firm has established itself as one of the foremost international authorities on both historic and modern masonry structural systems.

©Copyright - All Rights Reserved
DO NOT REPRODUCE WITHOUT WRITTEN PERMISSION BY AUTHOR.